I had neglected to mention this on Monday, and Tuesday was a blur, so here it is Wednesday and you guys are getting a "weekend update". Yeah, way to stay on top of things Matt. Sheesh. So, Saturday morning I had a photo shoot with a nice couple for an engagement portrait. Everything went well, they loved the photos, and when I came home around lunch time, my mailbox was overflowing with stuff…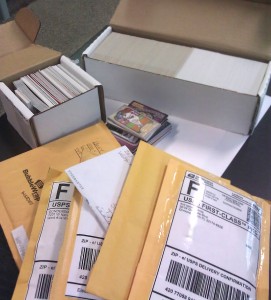 I'll save the eBay stuff for later, but the two really awesome things up there are the boxes. Derek hooked me up with quite the package for helping him out with his website, which turned into a group break, which turned into the aforementioned boxes above. Confusing, I know. Point is, he was super generous and new cards are always welcome, lol, let's move on.
I rearranged them a bit from what he sent and consolidated the boxes before snapping that photo. The really nice and/or awesome stuff is in the small box, and the big box is a 50/50 split of GQ and Heritage. I'm close to 200 cards for Heritage and I'm not sure what to do with them, but that's a whole other thing. Anyone have any team/player/set needs for Heritage?
Anyway, the boxes were full of all sorts of stuff…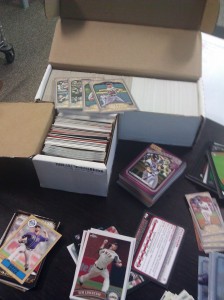 Including some unopened packs of Gypsy Queens, from which…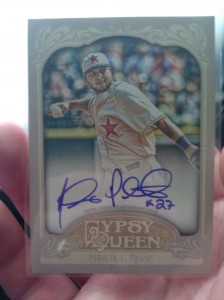 I pulled this. First pulled auto of the year. Jhonny Peralta, not too shabby. I love it when they add their jersey number too. I also came across a couple new SPs as well. Added to the 5 or 6 I already have, that makes at least 10. I don't want to create some Frankenset with them, so I guess they're up for trade.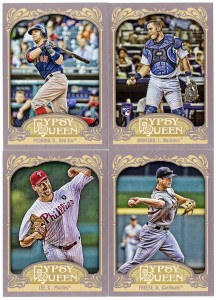 Besides the Gypsy Queens, the bigger box was loaded with all sorts of awesome stuff…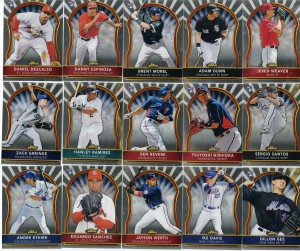 First, a whole pile of Topps Finest. I really need to pay more attention to that product, it looks really nice. Loved the design last year and wish I had picked up more of it. Lots of nice names in there too.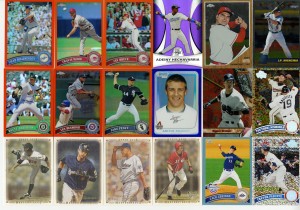 Orange boarded chrome, some nice numbered, colored and sparkly parallels, and my always favorite Masterpieces. Good stuff!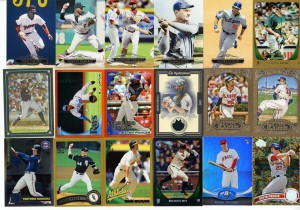 I have never come across any Marquee before. I really like the printing and the thick cards. A couple more orange, some Gypsy Queen bronze, more chrome and a couple 60 years of Topps golds. Wow. Derek, you've out done yourself.
Of course it wouldn't be complete without at least a couple Red Sox cards. That Ortiz chrome at the top is actually off my checklist, so that was huge, whether he knew it or not. The Donruss are awesome, didn't have any of those, and I'm always up for some sparkly chrome inserts, especially for Manny and Nomar, lol. Awesome collection of stuff.
I had an absolute blast going through all that. It was a great way to wind down the weekend. Thanks again for everything Derek!