Derek over at Tomahawk Chopping has been exceedingly generous with his recent Opening Day and Heritage purchases, spreading his extra non-Braves love around the blogosphere. I can't thank him enough for sending me all his Red Sox as of late. I truly appreciate it! I keep trying to score neat Braves hits from eBay to repay him for his kindness. He'll get something nifty soon enough, muwahahahaha. *cough*
Anyway, to say 'Thank You' and to show off what he sent, I fired up the ol'flatbed today…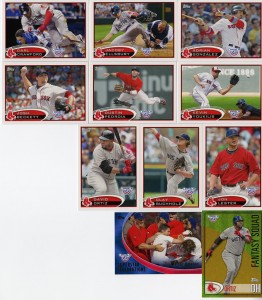 You see what he did there? Yeah, he sent me darn near the entire team set. I'm a Mark Melancon short of being done with Opening Day! That's awesome!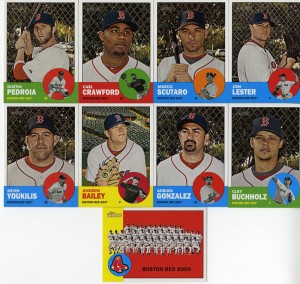 Then when he was done with Opening Day, he finishes off Heritage for me! The Andrew Bailey was the last of the base set I needed for Heritage. I only have the two SPs left to chase.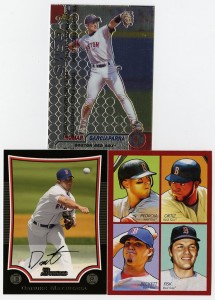 So, after basically leaving me nothing to buy until Series 2, he then drops a couple choice bonus cards on me, just to rub it in. lol. A 1999 Topps Finest Nomar, a 2009 Bowman Daisuke I didn't have, and a 2009 Goudey Quad-Head-Thingy™. That's the technical term.
Thank you again kind sir! I can momentarily only repay you with copious link-backs and praise, but I've got my always vigilant eBay searches tuned to Braves awesomeness. I've just got to find something you don't already have, lol.