That would be the fancy way of saying that I've bought more cards this week than cups of morning coffee. Office (aka: terrible) coffee will have to suffice. I know, I know, it's a terrible sacrifice to make, but these are lean times we're in, and cards aren't just going to buy themselves…
I'm doing this for future generations! Ok, not really, but I did get some neat cards this week. 🙂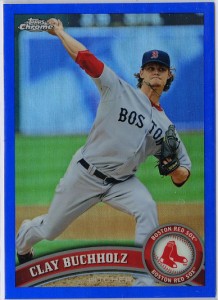 Mmmm, blue chrome. Who started me on this? It was Derek wasn't it! Now I have a bunch of 2011 Topps Chrome blue parallels, and I love them! I must have more! My wallet hates you Derek! lololol, just kidding. Anyway, a very nice Buchholz #'d /99.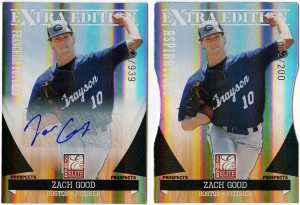 Let me just say that I try and restrain from "prospecting" as much as possible. Mostly because for every Stephen Strasburg, there's at least 10 Devern Hansacks. But for $0.99, getting both the auto (#'d 684/939) and the die-cut (#'d 002/200) together was a steal. They're also some of my first Donruss Elite (might have 1 or 2 others) and definitely my first signed one. Why /939 Donruss? You guys have a thing against nice round numbers?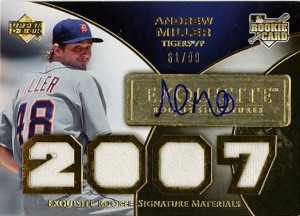 A legit trifecta. I think this makes 3 Miller autos I've picked up in a month. They're surprisingly cheap at the moment, especially with him doing a rehab assignment in the minors before rejoining the Boston bullpen. They could sure use the help. Anyway, it's an Upper Deck 2007 Exquisite Collection Rookie Signatures Gold #'d 61/99. I can't tell if the gold part is a sticker, or a foil emboss. It looks like the later, which would make this an on-card auto, but you can never be sure with UD, it could just be a gold sticker. Either way, REALLY loving this card.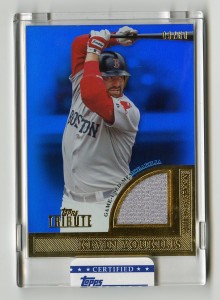 Last but not least, an absolutely gorgeous Topps Tribute Kevin Youkilis, blue 03/50, jersey relic. Normally way out of my price range, especially on the pack level, but this was just $3 plus shipping, so I couldn't resist. I usually don't dabble in the higher-end stuff, but I have to say that I really like that they went the extra mile with the hard cases and the security seals. I know it's not ultra rare, or even worth that much, but sealing it in a hard case just adds that little extra bit of perceived value. Plus it's freaking cool looking. Awesome card.