I like saying the word "dimwit", even though my friend Sam is anything but. Dimwit. Hehehe. See, it's just a fun word. What's even more fun than his pseudonym are his group breaks and card drafts. I was fortunate enough to jump into the later and scored a couple nifty cards.
Normally, the point of a "Trade Bait Draft" is to buy things for other people or at least things you think other people might be interested in. However, Sam's latest was so full of neat Red Sox stuff, I had a hard time picking up anything else.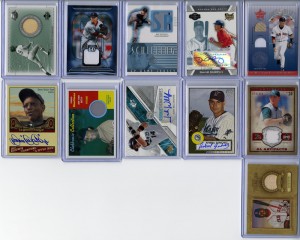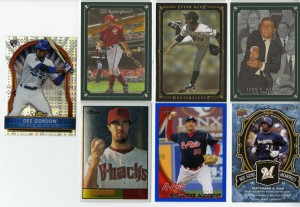 A good chunk of that first scan is all personal collection stuff, with a few exceptions. I figured I'd highlight them separately in a second. As for the second scan, everything except the JFK is up for grabs. Here's a couple larger scans from the trade bait.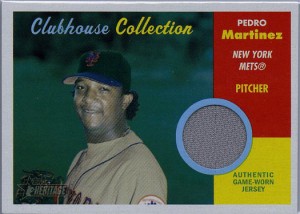 I'm borderline on keeping the Pedro, but I've got enough of his Red Sox stuff that I can most certainly part with him in a Mets uniform and not lose too much sleep over it.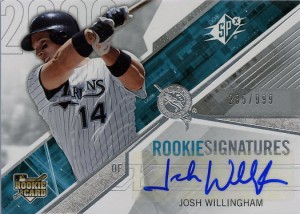 A very nice Josh Willingham RC auto. Really like the design on that one. 285/999.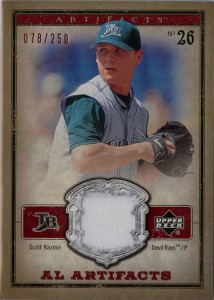 Ah, UD Artifacts, always fun. A nice low numbered Scott Kazmir jersey. 078/250.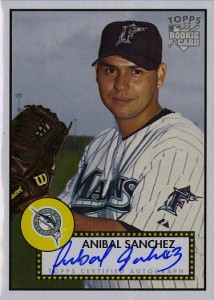 I really like this one. 2006 Anibal Sanchez Topps '52 RC Auto. A little bit of history to this one too. In 2005 Sanchez was a Red Sox prospect, a highly regarded one at that. That November, the Red Sox trade Hanley Ramirez, Anibal Sanchez, Jesus Delgado, and Harvey Garcia to the Florida Marlins for Josh Beckett, Mike Lowell, and Guillermo Mota. Beckett and Lowell helped us win a second WS title in 2007, but Hanley Ramirez went on to become a premier top-tier shortstop, something the Red Sox are actually in need of. Sanchez is a current fixture in the Marlin's rotation, but is looking for a big Free-Agency payday after 2012. The team at the top of the short list interested in him? The Red Sox.
Anyway, thanks Sam for a really fun Trade Bait Draft!