Kyle from Just a Bit Outside really hit the ground running in 2012 with back-to-back-to-back group breaks and more on the way. I managed to scrape together enough to get in on breaks #4, #5 and the upcoming Gypsy Queen break (for #6). Break #5 was a really wide selection of all sorts of years and brands. 2003 Bazooka, 2005 Topps Chrome, 2008 SP Authentic and 2003 Fleer Flair. I also decided to jump in and help fill this one out by taking a second team, the Angels, in hopes of getting a Lackey or Pujols hit. Here's how I did…
First, the Angels, which I crammed into a single scan.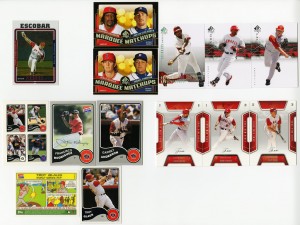 There's a couple nice Vlad Guerrero cards in there, two surprisingly thick Bazooka parallels, a Troy Glaus mini, bazooka comic and sticker sheet and a couple nice Marquee Matchups with Angels and Tigers. All those are up for trade if anyone collects Angels stuff.
As for the Sox, I got a nice selection, especially for SP Authentic, which I managed to get the entire team checklist (except parallels obviously).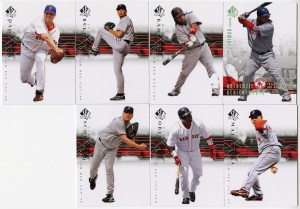 A nice little Manny "500 HR club" bonus as well. I don't care about PEDs, he was always fun to watch. Same thing for Mac and Bonds. Yeah, they cheated a little on the power side, but I still believe that while you can "enhance" power, you can't enhance a natural swing, or contact, or eye for the ball. So, sure, take the Hall away from those guys, but don't think for a second that they were "bad" players. On the contrary, they were excellent players that probably didn't need to cheat in the first place, and that's what makes it kinda sad. Enough about steroids, where are the rest of your cards Matt?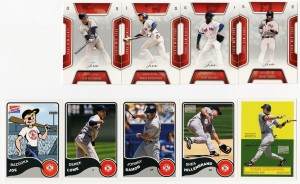 The Fleer Flair cards are neat, I like the design. The Bazooka on the other hand, not so much. Still neat to have, especially the Nomar stand-up, which is a concept Topps continues to throw into sets as some sort of weird insert. They had them in Lineage last year too. Can't say I really understand that one.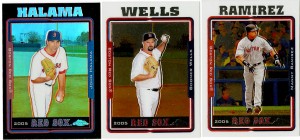 The Topps Chrome was a little slim on the pickings, but I got a nice black chrome refractor for a guy no one's ever heard of, so… yeah, there's that.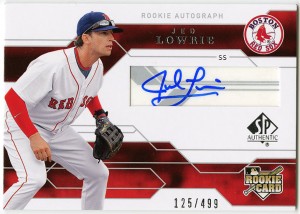 Last but not least, a very nice RC auto for Mr. Lowrie. Former Red Sox and now current Houston Astro, and constant DL member. This is actually the 2nd autograph I have for Lowrie, and it's nice to have an RC auto in the collection. It's weird that it's framed in a mini-window, even though it's on a sticker inside the window. If you're going to go through the trouble of cutting a window, just have him sign the card. Or, if you've got stickers, just put it in the white area clearly left blank for it on the card. Oh well. Nice card either way.
Thanks for another awesome break Kyle, can't wait for the next one!