I wanted to put together an entire post about this, mostly because I think it's going to be one of the very very few sets where I go after the entire thing, and not just Red Sox. Well, that was the plan until some unexpected things wiped out my card money stash. So, here's where I am:
Red Sox Base: Complete!
Thanks to multiple breaks, a blaster of my own, a couple trades, I have all the base cards covered, and even multiples of some.
Red Sox Inserts: Complete!
Thankfully, there are only 2 Red Sox in the insert sets, and they're both in "Sliding Stars". Ellsbury and Pedroia and I've got both. There aren't any in Moonshots, Glove Stories, Future Stars or Hallmark Heroes.
Red Sox Base Short Prints: 2/4
I've got the Ellsbury and Pedroia short prints/photo variations. I still need Youk and Boggs.
Red Sox Minis: 3/17
I have Boggs, Ellsbury and Melancon as regular mini (with varying 'backs'). I don't really care about the red back/strait cut variations, I'll take whatever I can find. I'm not going to do a set of each, but a combined set of the 17 would be great. There are 17 instead of 14 because there's a #331 Beckett that's a variation above and beyond the normal base 300, plus the two inserts (as minis). This is the first and only mini set I've ever been interested in finishing.
Red Sox Blue Paper Frames: 2/14
I have Beckett in hand, and Pedroia is being mailed via eBay and should be here soon. I love the look of these and I'm seriously wanting to chase down the other 12.
Red Sox Relics (Large): 3/7
I've already picked up the Ortiz, Lester and Youk full sized relics. Still looking for Fisk, Pedroia, Ellbury and Boggs.
Red Sox Mini Relics: 2/5
According to the checklist, there are 2 fewer mini relics than the large ones. I have the Ortiz and Youk mini relics already. Looking for Fisk, Lester and Boggs.
Red Sox Autographs: 1/5
I have the Daniel Bard auto on it's way to me, which is realistically the only one I have a shot at owning. The price jump from Bard to the others is huge. For the record, I'm missing Gonzalez, Crawford, Fisk and Pedroia.
That's where I'm at with my Red Sox Master Set. Base complete, and most others in various stages. I did put a good dent into the relics last week, and I think I'll wait a bit to see if the prices cool down on the rest.
Entire Base Set:
I'm still trying to decide if I should pursue this or not. NOT counting the Red Sox, I'm currently I'm 74 of the 300 base cards (88 with the Sox) plus 2 Glove Stories, 2 Sliding Stars, 7 Future Stars, 3 Hallmark Heroes and 3 Moonshots. I also have 17 regular minis (various backs), 1 green and 2 black borders.
All that is hardly a dent in a master set. I do have some random cards coming from a break or two, which should put me over 100. That's 1/3 of the way there. So, I guess I'm testing the waters a bit on this one. Below I'll write out the list of the cards I HAVE. If you have any base cards for the numbers I don't have OR if you desperately need some of the base I DO have, please let me know. If I get more responses from people wanting to get rid of their duplicate base and I think I can crack 150, I'll keep going. If not, and people are looking to finish their sets, I'll be more than happy to send what I have your way.
Base I Currently Have:
4, 9, 16, 17, 19, 24, 28, 29, 39, 40, 47, 53, 68, 78, 79, 81, 85, 91, 93, 97, 109, 110 (x2), 113, 114, 116, 123, 124, 129, 130, 131, 133 (x2), 134, 137, 144, 148, 155, 159, 165, 168, 172, 176, 182, 185, 186, 188, 195, 197, 199, 200, 204, 221, 224, 233, 239, 241, 249, 254, 265, 267, 269, 276 (x2), 282, 286, 288, 289 (x2), 290, 295, 298, 300.
Scans:
Yup, I've got scans. They're after the break. I managed to find, with the help of this handy visual guide, a number of the short prints in my stack. I scanned those, the minis, and the two hits I got. I'm NOT putting together a master mini set, so these are all tradebait. Ask away if you're interested.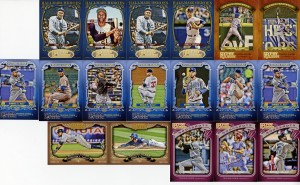 Inserts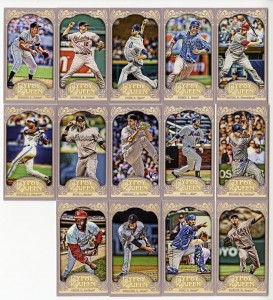 Minis (various backs, regular, red and strait cut)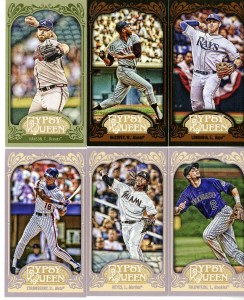 Green and Black border minis, plus 3 of the Short Print (above #300) set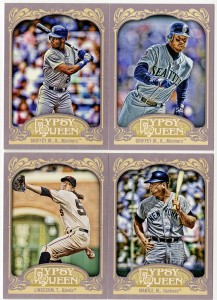 Short Prints (Griffey regular base included for comparison sake, SP is on the left).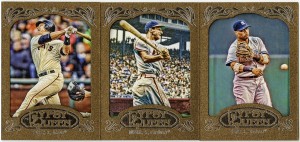 Brown/Bronze/Gold (whatever we're calling them) Retail borders, not numbered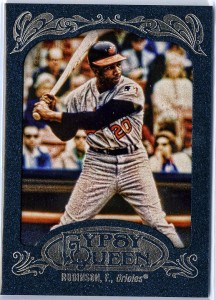 Frank Robinson Blue Border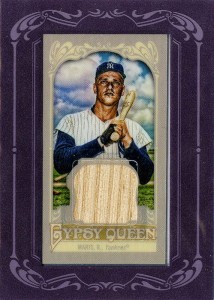 Roger Maris Mini Bat Relic