A couple weeks ago I made my first trade with a fellow Red Sox blogger. It was a blast trading some of my duplicates for some of his. Adam from Thoughts and Sox really put together a nice return package for me. I felt really bad after I pulled out all of my dupes only to figure out that he only needed about 20 of them for his checklists. But, 20 cards are still nothing to sneeze at (at least to me), so off they went. A couple days go by and I get a whole pile, probably closer to 100 in return. Adam was very very generous and I will definitely need to be thanking him (via cardboard) in the near future (and as soon as he lets us know his new address!).
There was simply too much to scan, so I did my best to pick out some of my favorites. In our emails he asked what I was looking for in return and I simply said "anything pre 2010" and he most certainly did not disappoint. While I didn't scan them, he knocked off a HUGE chunk of my '08, '07, '06 base card needs (about 50+!), which was heaven sent. It sounds silly, but completing those older sets is almost more satisfying. I can only imagine the feeling when you guys finish off something like a '72 or '68 set.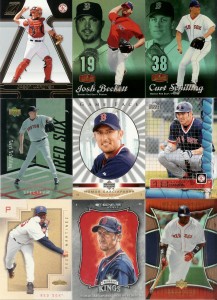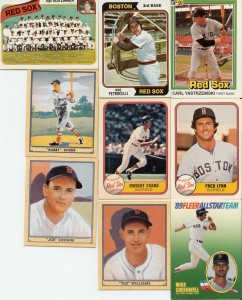 I think I bumped the scanner on that last one. Anyway, I tried to pick out a good cross section of the awesome stuff that Adam sent. There were a whole bunch of really great Fleer Showcase, a couple UD Spectrum, and of course the stuff from the 80's is always welcome.
Adam, thank you again for being so generous. I've got my eye on your checklists and I'll definitely be sending some more your way whenever I come across them. Thanks for the great trade fellow Sox buddy!