I got a couple more little yellow envelopes in the mail, and that always makes my day. Just wanted to share the fun.
First up, my buddy Derek over at Tomahawk Chopping sent me a surprise package. He sent me an email saying he sent "a couple card you might like". Umm, yeah, I think so!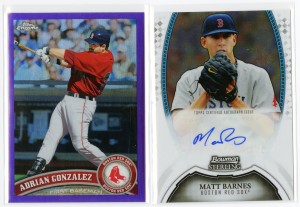 Yeah, I'd say those are pretty awesome. A purple border Topps Chrome Adrian Gonzalez (#'d /499) and a super sweet Matt Barnes Bowman Sterling auto. I've finished the Topps Chrome regular cards a dozen times over, but I'm still "chasing the rainbow" with the different borders. I didn't have any for Gonzalez until now. The Barnes is just strait up awesome. I had been trying to score that card off ebay for a solid month now. Derek must have been reading my mind. He also sent along a bunch of Topps Opening Day from what he opened recently. Thank you sir! An awesome surprise indeed!
Next up, a couple ebay cheapo purchases. First, I was severely lacking in the Topps Finest department (read: none), so I picked up these four for next to nothing. It was actually a "lot" of 8, so I have a dupe of each card.

Next, continuing the colored border adventures in Topps Chrome, a David Ortiz blue border (#'d /99). I now have a blue, purple, orange, sepia, x-fractor and regular refract0r for Ortiz. I think all I need are the black, gold and red. The red is out of 5, so we'll just call that one impossible, but the gold and the black are probably doable.
Last but not least, the only one I paid any sizable amount of money for, a 2007 Tim Wakefield Bowman Sterling jersey relic.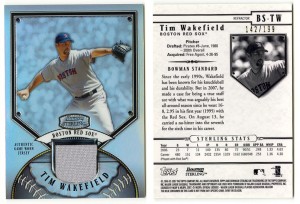 Numbered 142/199 and is one of very few Wakefield relic cards out there. There's a 2011 A&G, which I have, a 2008 Legendary Cuts combo with Phil Niekro, a 2008 UD X (which I ordered from COMC last week), and that's about it. I'd love to know if anyone knows of or has spotted any more. I'd love to hear that a Triple Threads exists, or something like that, but I just don't think they do.
Anyway, there's our mailbag for the week. A big thanks again to Derek for the surprise! I'll have to get him back with something Braves flavored 🙂