As I mentioned (via photograph) in a previous post, my cure-all for sickness calls for the following:
The Muppets
Gatorade
Baseball Cards
Normally that plan works quite well. Regardless of it's outcome this time, buying some cards did make me feel temporarily better last week. It also doesn't hurt that I severely beats the odds for what should come out of a blaster.
In total, I bought 1 blaster and 2 jumbo packs from the rack. I think it was $30 total. The rack packs gave me next to nothing except a short print or two and a single Chrome. The blaster on the other hand, it was loaded. Another chrome, a whole pile of short prints, a couple nicer inserts and a RELIC. Ooooh.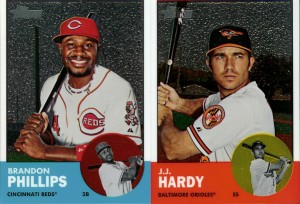 First up, the Brandon Phillips and JJ Hardy Chrome cards. Numbered out of 1963. Not bad, especially out of retail. Nothing too crazy special about either one.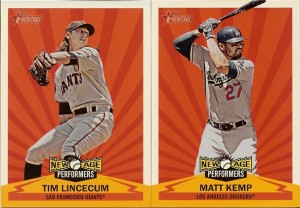 A couple "New Age Performers" which are one of the harder inserts to pull (1:15 packs I think). I also got a couple of the '63 Headlines ones but forgot to grab them for scanning.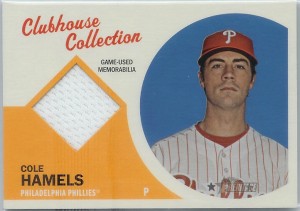 Next, the jersey. Cole Hamels. Can't really complain about that one. The whole "Clubhouse Collection" card design leaves a little bit to be desired, but it's kinda fun. I think I might track down the Ellsbury and Ortiz ones once the market cools down a little. Still, to pull that out of a blaster, especially for Heritage, is pretty decent luck. I think it's 1:70 or something like that. I think the Hobby box only guarantees one.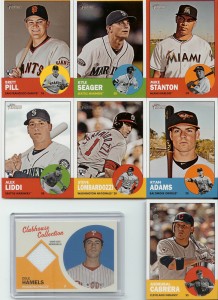 Last but not least, the short prints. 7 of them! The Mike Stanton is even a Target Red Border. Does that make it a short-printed short print? Anyway, according to the checklist, anything over 425 is a short, so all these should be some of the harder to find ones.
Not bad for $30 and some cough medicine, lol.