A couple of days ago, Derek from Tomahawk Chopping posted about needing one last card to complete his 2012 Series 1 set. I just happened to have that very card sitting on my desk so I sent him a message. I told him I'd send the card (and a couple of the 87 minis) to him and if he felt like it, he could send whatever he thought was applicable in return. I figured he'd just send me a couple of the 2012 Red Sox. Nope. He sent me THIS…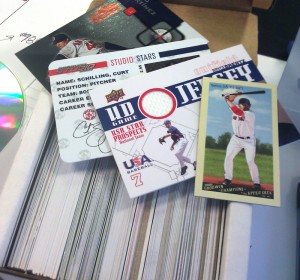 Derek! What have you done?! Now I'm forever in your debt. You shall receive every Braves card I ever come across, forever, lol.
He crammed close to 200 cards into that box. And not just base cards either, there was some truly exceptional stuff in there.
There's all sorts of years, 2011-1994, there's Topps, Topps Chrome, Bowman, Donruss, Fleer, Upper Deck, all sorts of sub sets, minis, refractors, rookies, it's INSANE. Topps Finest?! A gray bordered Baseball Heroes team set?!?! Upper Deck X Die-cuts!?! Donruss Studio, Topps Stadium Club, Upper Deck Spectrum. Breathe Matt, breathe. It's ok… at least he didn't send you any reli….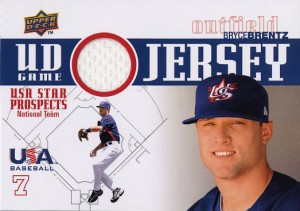 Crap.
I don't know how to repay him. I sent him a couple cards, not a huge box of awesomeness. I mean, just look at some of this. I didn't even sort these yet. I pulled this OFF THE TOP OF THE PILE…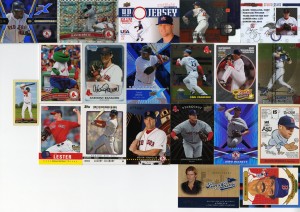 I mean. Wow. I've lost all ability to put complete sentences together. I'm… I'm going to go now, and… ummm, do…. things…. I think I need to, umm… buy some more binder pages.
In all seriousness, thank you very very much Derek. That's quite possibly one of the nicest things I've ever received. Thank you, that really made my day.