I received my cards from Sam's latest group break last night. I walked away with a hit, a complete team set, and 1 card short of another team set. That's really the goal (or at least my goal) when I participate in group breaks. I'm looking for sets of products I might not have opened. If I get a hit, that's just the cherry on top. As always my friend, thanks for running another great break. We might not have hit huge mojo, but I had fun, and new cards are always a good thing. Speaking of, let's check out the loot…
This group break consisted of 2 boxes of 2007 UD SP Rookie Edition and 2 boxes of 2009 Upper Deck Signature Stars. Neither product was familiar to me, so I was pleasantly surprised. First up, the SP Rookie Edition. The Red Sox base team set is actually only 4 cards and 2 (multi-variation) rookies. I'm only missing the Papelbon from the base cards, Sam pulled the Manny, Ortiz and Schilling cards, along with the rookies.

The set is, obviously, focused on the rookies so there are 4 variations of cards for each player, each one representing a past design that Upper Deck has used. 2007 happens to be Dice-K's rookie year, and I was lucky enough to get all 4 versions.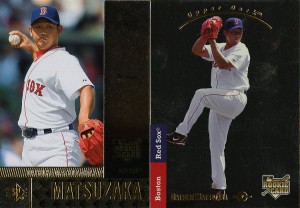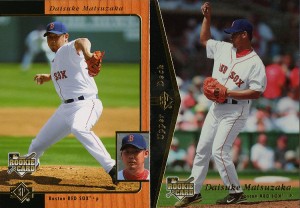 Not too shabby. The top two scanned really dark since they're mostly foil. Their actual colors are silver and gold.
Next up is the 2009 Signature Stars. A set I had never even heard of. 2009 was such a weird year for Upper Deck. I think they cranked out all the designs and sets they could come up with, fully realizing they wouldn't get another chance to do a proper baseball set for a while. This set focused on current stars along side Team USA prospects.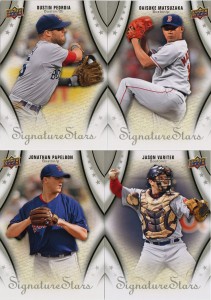 I was one card short with a box to go and luckily got it in nearly the last pack. Team set complete! I like the design of these with the exception of the font on the very bottom. That's a fairly "safe" and boring script font. They could have easily played off the "signature" part and done something that was closer to actual handwriting, but I'm just nit-picking.
Last but not least, the hit. It actually came out of the SP Rookie edition and unfortunately wasn't from the Sox…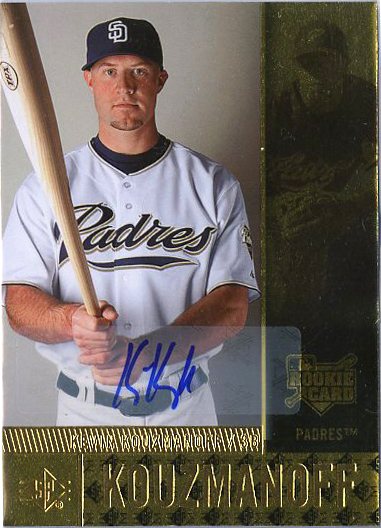 Little did I realize that I was destined to become a Kevin Kouzmanoff collector, because this is the THIRD autograph of his I now possess. I currently have the Future Stars auto from the same year, and from what looks like the same photo shoot, in my tradebait. Anyone know any good Padres fans?
Or, an equally interesting question, does anyone have a collection of a player that they honestly didn't intend to have? Me, I've got the Kouz here, how about you?