I took a little break from all things computer related over the weekend and now I'm finally catching up. I've got some outgoing mail, some incoming mail, a trade, some ebay stuff, and some old junk I found in the attic.
First up, a couple weeks ago I bought a box set of the 2011 Team USA baseball at Target. I had actually recorded a box break of it, but after viewing it it really didn't seem nessisary to post. For a $9.99 box, it really wasn't all that interesting. I got the 1 auto, a single other card that holds some vague interest, and more importantly, since I recorded it in HD, it was about 1.5G of boring video. I didn't figure it was worth the encoding time. So, instead, I decided to scan.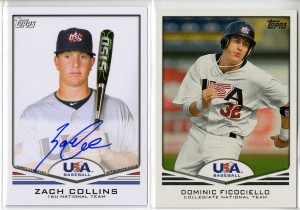 What's slightly more interesting than the random 16U kid auto, is the card stock that these were printed on. I scanned the auto next to the only other card of any interesting value (at least to me), the Dominic Ficociello. I have an autograph from Dom as well, so it was the only other name I recognized out of the set. Is it just me or are the two cards a completely different color white? That's not a scanner thing either, those were scanned side-by-side, and look that way in real life. I went back through the box and it seems pretty random which cards are on what stock. My guess is that they did the 18U and Collegiate teams first, then the 16U and the autographs, as those seem to be the most consistent ones on the different paper. Still, if I was building a binder of USA baseball, this would stand out pretty badly. Did I get a poorly printed set, or is it another case of Topps quality control?
Moving on. As you've probably figured by now, I did buy some 2012 this month. I spared you from looking at them all. You're welcome. I'm fairly indifferent towards the set. It doesn't bother me in any way, and certainly not like some of the more irate members of the blogosphere. It doesn't really blow my skirt up either. Its just a base set. It's kind of supposed to be boring right? I really like the photography, I think it's really solid. The inserts do bother me a bit, especially the ones with the huge empty areas where jerseys and autos are supposed to be. The manupatches however, those are very well done. I like these a lot better than last years logo-patches. Out of my single blaster (the rest of what I bought were jumbo pack boxes), this was the patch I got.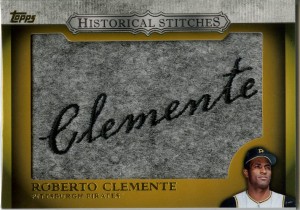 I like the wool. It's really nice. It actually goes really well with the Pirates colors as well. It's also available if anyone is interested, or collecting the set, etc.
Next up, while putting some final Christmas boxes in the attic (yeah… it's taken me that long, lol) I spotted a box labeled "Matt's NH Stuff". When I moved down to Texas years ago, I had some of my stuff boxed up and shipped via freight. I thought I had unpacked it all a long time ago. I noticed a couple childrens books on top and thought I'd pull them out for my daughter. Underneath were 3 old, ancient, card binders. One was a set of Marvel comics (mostly X-Men) cards from the early 90's, complete with little notes I had written myself about their alleged worth. Apparently, they still have some sort of value. I found a couple on ebay going for $30. I have the entire set of these. More important (topically), is that the other two binders were my 1987 Topps set. I had separated them into American and National league binders, then again by team. Apparently I was just as organized at 10 years old as I am today, lol. Anyway, after looking through them, I pulled out two for top-loader status.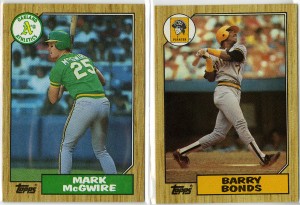 That's probably a waste of two perfectly good top-loaders, but what the heck. Hey, if 1987 is good enough to bring back as a mini, than there's something to be said for the originals, right? (Yeah, that they were as ugly then as they are today, lol)
Next up, a couple of ebay purchases came in over the weekend. First is a 2009 Clay Buchholz jersey from Topps Heritage. This one is going to go down as a "poor" review for that ebay seller. I'm not going to bother trying to dispute it, for $2 it isn't worth it (right Greg?). I requested a bubble mailer, was charged for a bubble mailer, it arrived in a PWE and was "crushed". The corners are fine, it was at least in a top loader, but the center was "pressed" so much that the jersey card bulge started cracking around the edges. You can see it in the large version of the scan. It's a cool card, I just wish it hadn't been shipped like that. Maybe I can find another on COMC.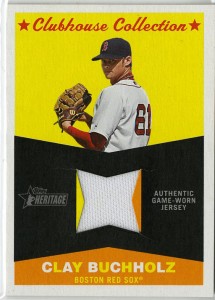 Next is a card that arrived in really great shape, and is actually from one of my favorite sets. 2009 Goodwin Champions Jed Lowrie auto. I think Sam told me at one point that the sunset and night-time backgrounds on that set were the short prints. I saw this for $0.99 and couldn't resist. Lowrie is actually with the Astros now, so maybe I can get a couple Sox cards autographed in person at the park. Is that bad form, to bring a card from another team for someone to sign? Anyway, very awesome looking card.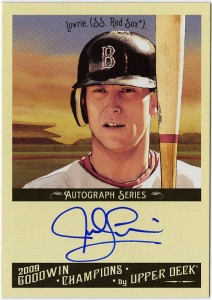 Next up is a trade package from reader Steve. He sent me a message last week and he had a really sweet Paplebon jersey to offer. We banged out a trade and he must have stuck it in the mail that day because I already have it in hand. Steve, you're box is on it's way, I dropped it off at the post office this morning. So, in return for a couple Yankees and a Josh Hamilton, he sent me this beauty.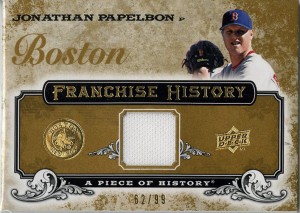 Mmmm, 62/99, "gold" version from the 2008 A Piece of History set. Sweet. He also included a really nice Nomar insert!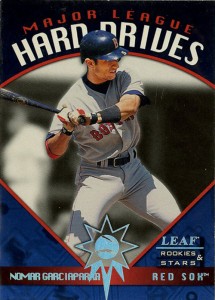 The back side of that one is numbered 1040/2500 and I believe it's a 98 Donruss (Leaf). Awesome stuff Steve! Thank you for a super easy trade. Your stuff should be there soon. Hope you like'em!