Ok, so I've reversed the order a little. I figured it made more sense to post the really nice hits I got last weekend BEFORE I posted the entirety of the personal collection haul, just because it would make more sense to include the hits in the personal collection, rather than leaving them mysteriously out for some odd sense of blog drama.
I won't blabber on endlessly on some rant about hits and jerseys and on-card versus sticker autographs or anything like that. I'd rather talk about the cards. Because they are awesome. At least to me.  Let's do this!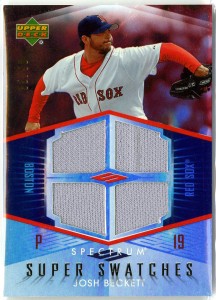 First up, a beautiful Josh Beckett "Super Swatch" from UD Spectrum Swatches. #'d 35/50. I know it's all gray, but I still love it.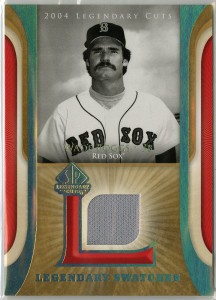 2004 SP Legendary Cuts, Wade Boggs "Legendary Swatches". Not only is the design of this card epic, it's also one of my first Boggs swatches ever (more to come!). I like this one the best out of the ones I picked up.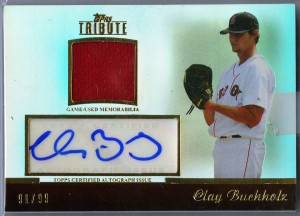 Clay Buchholz, Topps Tribute jersey/auto, numbered 91/99. Apparently there's a /50 version of this card that's slightly blue-er, but I don't care, this one is awesome enough for me.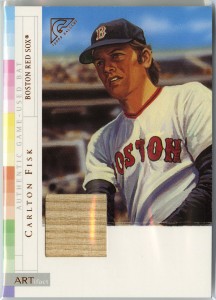 I think someone else was collecting this Art Gallery set if I'm not mistaken. I don't even know what to say about this besides the fact that I'm totally geeked out by it. Art, and baseball, on a card. Yup, we've found what Matt enjoy's the most. Oh, and bat pieces are freaking cool!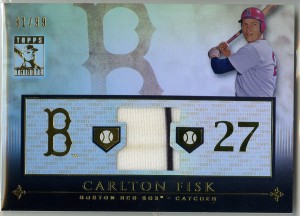 A second Topps Tribute, also numbered 91/99. Weird. I really really like the card, and the swatch is dirty, which makes it even neater, but I'm 99.9% sure that the Red Sox have never worn black pin-stripes. Just a hunch, but I'd say that's a piece of White Sox uniform. It's still a cool card.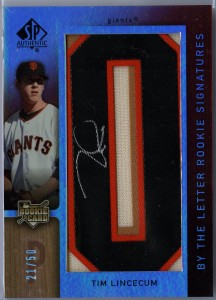 Yup, the Timmy. Hey, it's the "hits" post. I'd be remiss if I left it out. He might not play for the Sox, but that definitely counts as a hit in my book.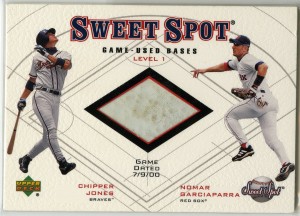 I can honestly say this is a new one for me. I've NEVER seen a piece of a base before. Bats, yup. Jerseys, all the time. Gloves or shoes or patches, sure. Bases? Apparently so. A shared card with Nomar and Chippa', from a specific game. I looked it up on Baseball Reference and the Sox won, 7-2, at Fenway Park, with Wakefield on the mound. That's pretty cool! The card is also completely ridiculously thick. I think it's beyond 175pt. I have no idea what I can store this in.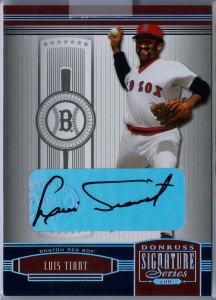 2005 Donruss Signature Series, Luis Tiant. This is now the 2nd Luis Tiant auto that I have, the first being a trade from Johnny that I've yet to post about (soon my friend, soon!). I actually have a personal connection with Mr Tiant. After retiring from the MLB, he bounced around as a college and minor league coach. Not only was he one of my all time favorite pitchers, but he was also the coach of my college baseball team, while I was there. It's one thing to meet a player once or twice, or be a fan from afar. It's a completely different thing to sit 5 feet from him at a college baseball game and ask him how the season is going. For the record, Luis is a really nice guy.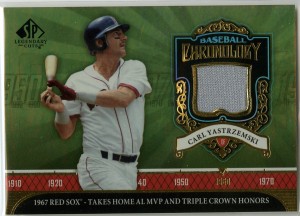 SP Legendary Cuts (noticing a trend yet?), Carl Yastrzemski "Baseball Chronology". Reads "1967 Red Sox – Takes home AL MVP and Triple Crown honors". I'm not really sure i need to say much more beyond that.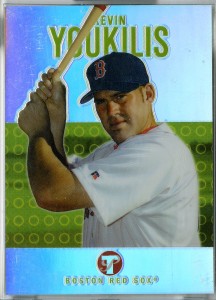 Last but not least, a 2003 Topps Pristine, Kevin Youkilis rookie refractor, UNCIRCULATED and numbered. Wow. This is the first uncirculated card I've ever owned. I honestly don't know how that works. Where do those come from? The factory? Dealers? Who buys these, and where? All I know is that I've got one and I'm all kinds of excited about it.
Well, there ya go. Those were the good ones. There's tons more of what I would consider a "hit" in the personal collection post which I'll probably post up tomorrow, but those are my top 10. As you can see, I had a really awesome time at my first card show.