Well, technically Plaschke Thy Sweater is Argyle. Plaschke, the person, is Bill Plaschke, a sports writer for the LA Times. Argyle Sweater is a blog run by Greg, who is an awesome guy, and as far as I know, not Bill. That works out well for me since Bill Plaschke probably doesn't collect cards, and Greg does. See where this is going?
Since I posted my trade bait a couple month back, Greg and I had been working on a trade for a couple cards he was interested in. He got most of my Dodgers hits and in return he sent a nice collection of Sox stuff.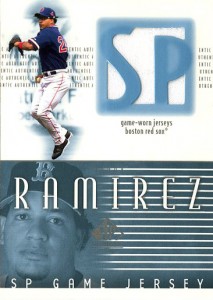 We started out trading patch for patch. Greg got my Jared Weaver mini-relic from Lineage and in return sent this really nice SP Authentic Manny Ramirez patch. It might be hard to tell from the scan, but there's actually stitching down the center of the patch. Very cool.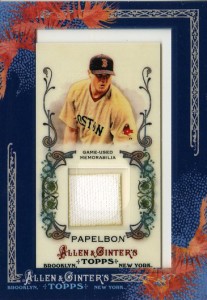 Next up is a sweet A&G Papelbon Mini Relic. This actually makes 9 A&G Sox relics that I have. The base cards didn't blow me away last year, but I really enjoyed collecting the relics. My main complaint, the design of the base cards not fitting with the "era" of tobacco cards, seems to be rectified in the preview of 2012, so maybe I won't write them off as quickly as I did the 2011 cards. I really dig the 2012's art deco border and updated fonts. Yes, I'm a graphic design, yes, those things matter to me, lololol.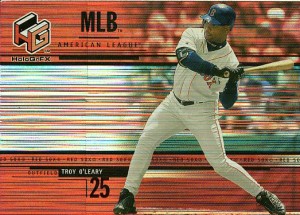 Next up is something I had never seen before, a HoloGrFX card. Troy O'Leary certainly wasn't a super-stud by any means, but the card certainly is. The scan doesn't do it's shiny, foily goodness any justice.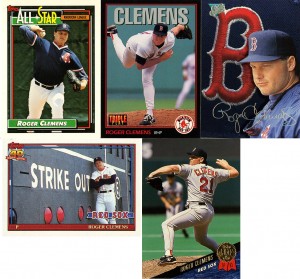 Last, but definitely not least, he sent a whole collection of vintage Roger! I think I actually had that Topps card with him against the scoreboard when I was a kid. I had a whole mini collection of Clemens when I was younger and I have no idea where it's ended up, but I remember having that iconic shot. Now I have it again and I'm very happy about it. Greg also sent over a nice '86 Tom Seaver and a couple base Manny cards I didn't have, which were also great.
Thanks for the awesome trade Greg! Looking forward to the next one!