I was happy to find a little present in my mailbox when I got home last night. It was my cards from Sam's Group Break last week. He busted a box of 2009 SP Authentic, 2009 UD Piece of History and a box of 2007 UD Artifacts. I, obviously, chose the Sox as my team and got randomized the Rockies as my 2nd. I love the way Sam does breaks. The 15 person, 2 team format gets everyone what they want, plus a little something extra that maybe they weren't expecting. Here's what he pulled.
For starters, I didn't scan the base, but just as an FYI, I'm now only 4 cards short of the team set for SP Authentic, and 3 short for a team set of Pieces of History. I should probably add those to my want list when I'm done with this post.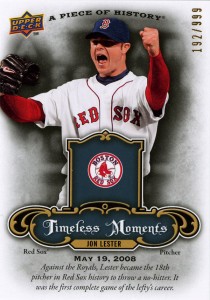 First up, a nice gold #'d parallel from Piece of History showcasing Jon Lesters first no-hitter. Not too bad for a start.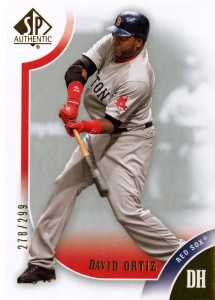 Next, another gold parallel, this time from SP Authentic. An Ortiz, numbered out of 299. I already have the base of this one, so now I can cross the parallel off the list too, nice!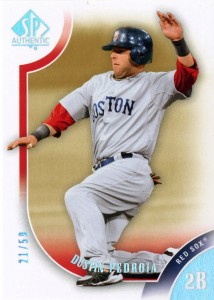 Next, a super nice parallel, #'d 21/59 (Seriously, 59? You couldn't make a 60th one?). I'm not sure what the actual name of this parallel is, but it's clearly higher than gold, so, maybe platinum? Anyone know the actual name? Either way it's a sick card.
Now for the meat of the break. I was very very fortunate to get not one but two hits. I had struck out most of last year with breaks, getting just a couple parallels here and there, but my last two breaks have been little autograph parties and it's a nice change of pace. Maybe that means there are good things (and good mojo) in store for 2012.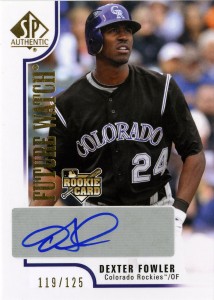 First up is a very very nice Dexter Fowler auto, gold foil parallel, numbered out of 125. Not to mention that it's his rookie card as well. I lucked out with the Rockies just like I lucked out with the Padres last time. Normally I'd say this was up for trade, but it's actually already been spoken for. I got an email from Johnny over at Cards from the Quarry about it as soon as Sam pulled it! I figured I'd at least scan it so I'd have a record of actually having it before I send it out the door, lol.
Last and certainly not least, my Red Sox hit…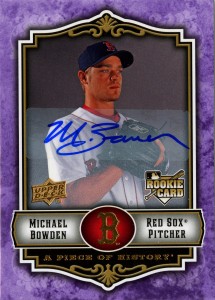 A nice Michael Bowden RC Auto from the Piece of History set! Bowden's spent the past couple years shuffling back and forth between Fenway and Pawtucket. He's on the short list to get called up if one of the main starters gets hurt. Hopefully he'll make it back up (and stay) in the majors for 2012. The Sox could certainly use the help on the mound. We'll probably find out more about where he'll end up once spring training starts. A very nice card to have in the collection.
Thanks for the break Sam!