I got my first trade package in the mail over the weekend from my new friend Johnny over at Cards From the Quarry. Johnny is a Rockies fan and I sent him a couple jersey relics, parallels and just about anything Rockies related I had. In return he was kind enough to send along a whole stack of awesome stuff. He included a bunch of fantastic Goudey, Goodwin Champions and lots of recent Upper Deck, which I'm extremely grateful for. I didn't have anything from the early 2000's. Now I've got a great start on lots of 2008-2005 stuff. The highlights from the trade were definitely these…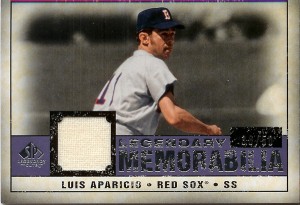 An Upper Deck SP Authentic Luis Aparicio jersey relic. It's hard to see in the scan, but it's #'d 36/50. Completely awesome card!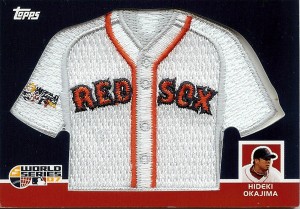 Hideki Okajima WS mini jersey. If anything could be considered "cute" in baseball card collecting, it would have to be a mini jersey patch. Just look at that thing! I like this a whole lot more than the manu-patches from this year.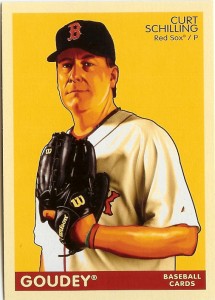 2009 Goudey Curt Schilling. I've loved this set from afar and had never had the chance to pick any of them up. There were a number of Goudey cards Johnny sent but this one and the next one are my favorites.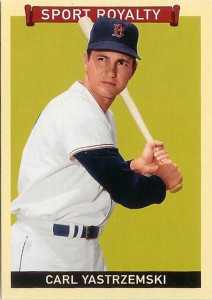 Sports Royalty is right. An awesome Goudey short print of Yaz. It doesn't get much better than that.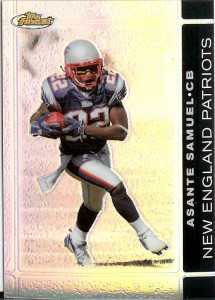 Wait a minute, is that a football card? Yup, he snuck in a card from the Pats. Not just any old card either. An Asante Samuel refractor. I can't remember exactly, but I'm pretty sure it's also numbered out of 99. Wow. Awesome card.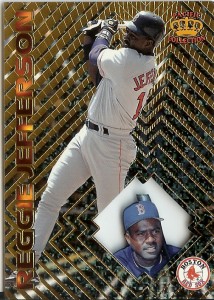 1996 Pacific Reggie Jefferson. This card is epic. Crazy design, everything is gold foil, the scan doesn't do it justice. It's also got a cutout/window with Reggie's head on it. How cool is that! For those of you that don't know, Reggie Jefferson was a platooned 1st baseman and DH for the Sox from 94 to 99. He had kind of a crummy 98 season so they cut back on his playing time. In 1999 he didn't make the cut for the playoff team roster, stormed out of the clubhouse and was never heard from again. He popped back up in Japan for a single season and then disappeared completely.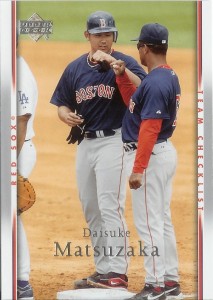 I know it's a team checklist, but 2007 was still Dice-K's rookie season, so it's still an awesome card. I'm still chasing a honest to goodness RC for him, so I've got my fingers crossed for Sam's next group break.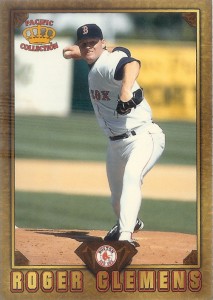 Last but not least is a 96 Pacific Roger Clemens. 1996 was the Rockets last year in Boston. After that it was a couple years in Toronto, NY, Houston and then back to NY. I have great respect for Rodger, even after going to the Yankees. You don't pitch for more than a decade in Boston and not earn my respect. This guys was everything to the Sox when I was growing up. All the controversy aside, he's still a great pitcher, regardless of what's going through his veins. You can't "juice" pitch location, and Clemens was a master.
So, a huge thank you to Johnny for an awesome trade. I hope he enjoys the cards I sent him, I know I certainly appreciate all he sent me. Check out his blog if you have a chance as well. Thanks Johnny!