So, when Sam posted his massive pile of trade bait the other day, it got me thinking. I had made a promise to myself (and the wife) that for both budget and space reasons, I was only going to be collecting Red Sox cards. That sounds like a great idea in theory, but if you're only collecting one team and you buy packs and boxes you're obviously going to have quite a few cards you don't need or want. That's where you guys come in. I've decided to sweeten trade deals with giant piles of base. Here's how it works. If you're interesting in a specific card I have, be it a hit, parallel, base or something else, and we make a trade, I'll throw in all the extra cards I have for that team as a freebie.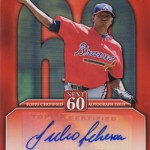 So, for example, if you're a Braves fan and you're interested in this Teheran auto, and we agree on a trade, I'll send you that card, along with ALL the other Braves cards I have. Yup, the whole pile.
I've already divided up my big box of 2011 purchases into team specific piles. Anything I bought this year, which include 2011 Bowman Chrome, Bowman Platinum, 2011 Topps S1, S2, Update, Topps Chrome, 2011 Allen & Ginter, Gypsy Queen, 2009 O-Pee-Chee, Upper Deck 07 and 08 Masterpieces, 2008 UD Baseball Heroes, UD X, SPX, 2011 Topps Lineage, etc, etc, etc. EVERYTHING I bought this year that's none Red Sox related is in these piles.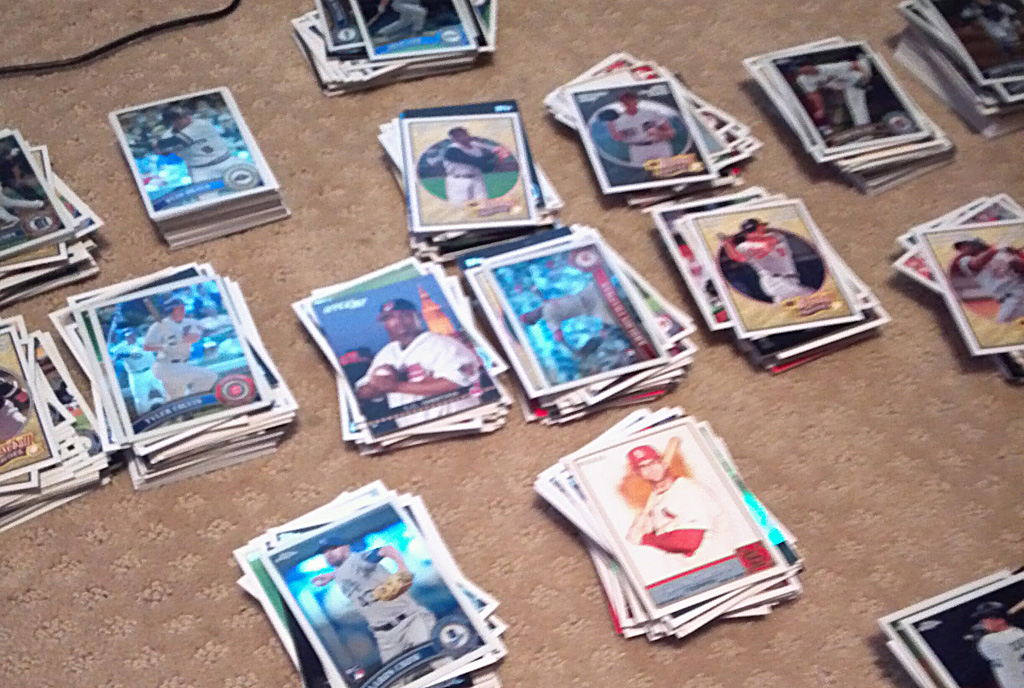 After I was done sorting, I think the smallest of the piles had about 40 cards in it and the largest (damn Yankees!) is probably pushing 80. There's a good mix of everything and probably pretty close to a complete team set of regular Topps base in each one, or at the very least it's a really good start towards one.
I'm putting together a collection of all my hits and parallels for scanning and then I'll be posting more details, but I just wanted to throw the idea out there and get your mouths watering. If you skipped out on base cards this year, or only collect a certain brand and wanted to see some others, this is a great way to get a pile of cards for your favorite team for next to nothing.
So, start going through your own piles, find anything that's Boston related, and check back in a couple days for scans of my more interesting cards. I'm really easy to trade with, I'll probably take just about anything you have, regardless of product, year or player.
Also, if there's any specific pile you want to see, or ask if there's "Player X" or "Card #" in a certain pile, ask away and I'll let you know.
So, stay tuned, trade bait is coming 🙂