I forget which blogs I saw it on, but over the summer someone had floated the idea of showing off your card room and/or man cave. I thought that was an awesome idea. Like "Cribs", only super nerdy.
So, I welcome you into my man cave and game room. Let me give you the tour…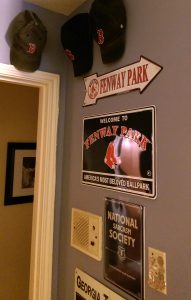 Right as you walk in you instantly know what disease/religion interests I have. I'm also a life-time member of the National Sarcasm Society. Fun fact, every time I buy a new hat or something with an official "mlb license" sticker on it, I stick it to that light switch plate. Once it's covered completely in shiny little baseballs I'm going to cover it in resin and make it permanent.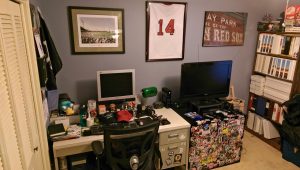 Here we go. Normally I'm not this organized, I caught myself on a good day. My computer desk is actually an original metal desk from NASA, strait out of Johnson Space Center. My wife's grandfather was an engineer at NASA and when we retired he asked to keep his desk and they let him. It's SOLID STEEL. It took 4 guys to get it into the room and it's never moving again, it honestly weighs 300+ pounds. On top of it are various nick-knacks, my "to-be-sorted" card box, etc. Above it hangs a Fenway lithograph, my autographed Rice jersey and another Fenway sign. Beside the desk are two filing cabinets I sticker-bombed that I'm using as a TV stand. To the right, the first card shelf.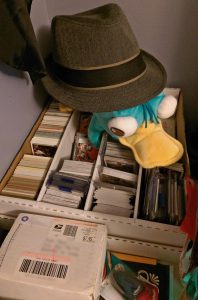 My "incoming" card box, full of various things that await sorting. It's guarded by Perry the Platypus, sporting a fedora of course.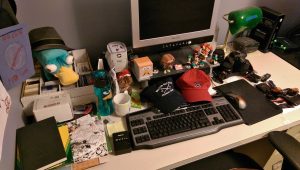 The desktop itself. I've got random little figures from the cartoon Phineas and Ferb (we're big fans around this house) as well as a Funko Pop of The Dude. My gaming keyboard and mouse, high-end Logitech stuff from another era of my life (competitive gaming). Some camera gear over there on the right, etc. Sketchbook on the left (old art school habit) along with some colored pencils and one of those adult coloring books just for the heck of it.
Close up of the Jim Rice jersey hanging on the wall. This one is fairly self-explanatory, but it's probably the nicest thing in the room and deserved it's own photo.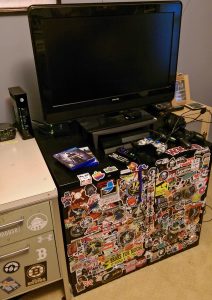 Heading to the right we find the aforementioned cabinets complete with far too many stickers. This is mostly a "base layer" of crappy stickers before I put the "cool" stickers on top (as I find them). On top we've got the TV, stand, and PS4. A couple controllers and games lying about for good measure. Inside the cabinets are other video games and console accessories (left cabinet) and all my pages, top-loaders and other card supplies (right cabinet).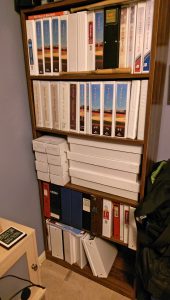 To the right of all that is the first of two bookshelves crammed with stuff. These are the bulk of my card binders. A few are spilling over to the other shelf (see below), but these are mostly my sets and player collections, along with boxes of hits in the middle shelf.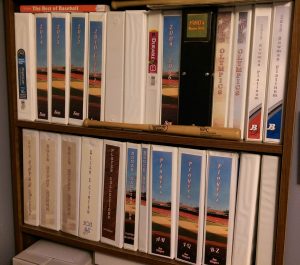 A closer look at the binders. I've got various complete sets, yearly team sets, along with some player collections. Nomar, Holt and Papi get their own binders, most everyone else is in the Player Collections by last name.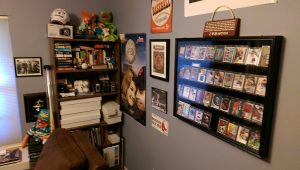 Turning right even more, this is the other side of the room. On this wall we've got another bookcase, various pieces of wall art and my card display case. At the very bottom of the bookcase you can barely see some more card binders that have overflowed from the other bookcase. These are the random "1987 Topps" sort of binders.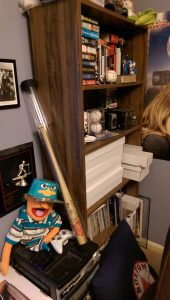 The second bookcase, various collectables, a small book collection, more card boxes, my muppet, signed bat, etc.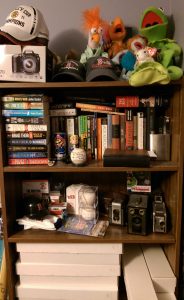 A better look at those shelves. The card boxes in the middle (bottom of the photo) are my "sorted by teams" inventory. Everything that's a legitimate hit (auto, relic, etc) goes in the boxes on the first bookcase, everything that isn't goes in here. Muppets on the top, books and various random things on the first shelf, baseball stuff and my antique camera collection below that.
Small book collection and randomness.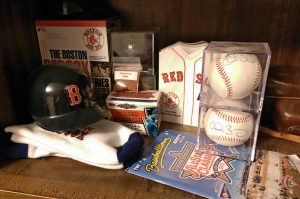 Random baseball stuff that doesn't quite fit anywhere else. Sox mini-helmet, autographed balls, fenway dirt, etc. Just out of sight on the right is the camera collection.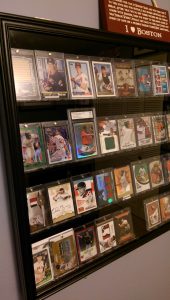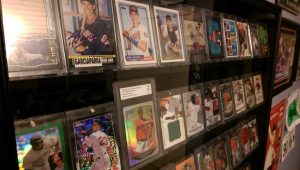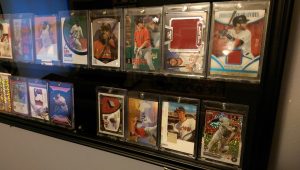 Hanging on the back wall is the card display case. This is where the stuff I really like gets put. Most everything in there was either crazy hard to find or cards that I have a personal connection to or story about. Great conversation piece. I'm trying to have everything in there displayed in mag-cases. I just like the look of them, very clean.
Lastly, and finishing out our tour, a couple tin signs, including my favorite one with Ted Williams and Moxie. Also a framed 2004 WS photo and commemorative coin, a random Topps tin sign, a framed copy of "Studio Photography Magazine" featuring the 2004 WS, and a one of a kind drawing of Fenway park my little one drew for me.
That's it. Hope you enjoyed the tour!