So, per usual, this weekend we made a shopping trip to Target and per usual I'm standing in the card isle trying to find something worth buying. My Target's card isle is usually pathetic, but this weekend they had two lonely blasters of Diamond Kings. I love Diamond Kings, I think they're a brilliant merger of art and baseball, but $20 is a lot (for us) and I already have most of the Sox team set. I buy it anyways, because I'm weak, but we have other errands to run and I set it aside to open later. When I finally do open it, I'm suddenly glad I bought it. This was waiting for me in the first pack…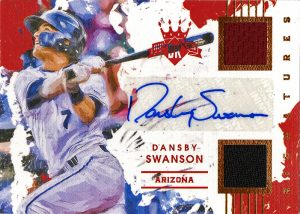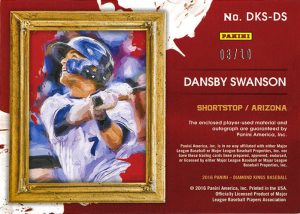 Hey, a 3/10 isn't bad. Duel relic, auto, but it's for some random guy on the Diamondbacks that I've never heard of. Who the heck is Dansby Swanson? Meh. I put it in a top loader and go set the table for dinner.
Later that night curiosity gets the better of me. I text Sam and ask him if he knows who Swanson is. Sam is my go to baseball encyclopedia. He tells me he was the first pick in last years draft and that, "that kid is going to be a star". Really? Hmm. Now this is getting interesting. I google him. Power position player at Vanderbuilt, star of the Collegiate National Team, drafted #1 by the Diamondbacks, signed for $6.5 million, traded to the Braves in the Shelby Miller deal. Damn. This is what I get for not paying attention to baseball news outside of my bubble.
Ok, so the kid is legit, but what is the card worth? What should I do with it. I search eBay…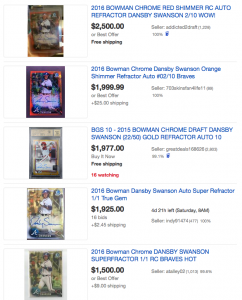 Holy crap.
Ok, so, umm, what about this Diamond Kings card in particular?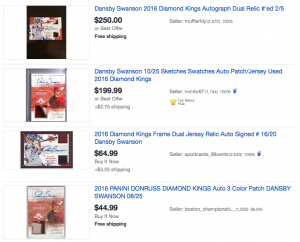 That's not terrible, but now I'm conflicted. $2k for a Bowman auto, which I attribute to "Bowman Mania", and would expect to die down at some point, but only $70-ish, give or take, for a Diamond Kings auto? I guess people really undervalue those unlicensed cards, which is a shame.
So, clearly, while I would love it to be a $2,000 card, it's not that. Although it's 3/10, it's not a Bowman and it's not sparkly. At $75, give or take, it's falling into that "Do I sell it, or hold on to it" category. For $2,000 I would have sold it in a heartbeat, I have car repairs and mortgage payments. $75 doesn't get me anywhere in that category, and I'd just blow $75 on more cards.
The question becomes, does this card go UP in value if I hold on to it? Most cards don't. I learned my lesson with my 1/5 Russel Wilson auto. No one wants it now, Russel Wilson is old news. Dansby Swanson however, is just starting his MLB journey. He's playing Single-A in the Braves system and projects (according to Fangraphs) to be a 7+WAR player in the majors. He's a shortstop with power, and we all know how rare those are. He's easily the top prospect the Braves have, and they'll most likely build a team around him in the coming years.
I'm at a loss as to what to do. $75 (estimate) doesn't make me want to list this immediately and cash in. I wish the DK cards were going for more. I guess, if anything, it just removes the sense of urgency, and I can wait a little and see if an interesting offer comes around. Anyone have any advice on this one? What would you do?