I'm sure most folks in the card blogging community have read that Sam, aka The Daily Dimwit, is taking a break from collecting. While many have left kind regards and well wishes to him on his blog (as well you should), I actually know Sam in real life, and can do that in person. Our wives have known each other since grade school and I met Sam, through that connection, after moving to Texas years ago. I credit him with my eventual return to the hobby. We try and meet up when we can, catch up, and usually exchange cardboard. He was in town a little while ago and, although we weren't able to meet up this time, he left me quite the card package on my door-step. We'll have to work out schedules and properly plan a time to hang out soon. So until I can thank him in person, a blog post in gratitude will have to suffice.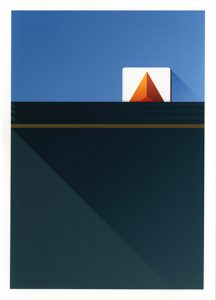 I wanted to start with this because it is completely awesome. This is actually an art print. A 5×7 from an artist named S.Preston from his series "Minimalist Ballparks". I don't know where Sam got it, but it's freaking awesome. I love the merger of art and baseball. The artist also offers large posters, and I am most certainly getting one for the man cave. This made my day!
The package was stuffed with all sorts of awesome cards, so I only picked out a few of my favorites. That UD Spectrum is actually numbered 02/15. That Wakefield is also especially cool, I love Gallery and that card wasn't in my collection yet. Neither was the Manny, come to think of it.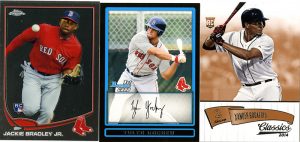 JBJ and Bogaerts RCs and a Bowman for Tyler Yockey, no relation to Tom Yawkey, legendary Sox owner.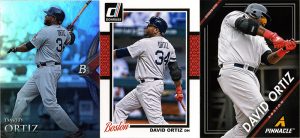 Papi trio. The first two are a perfect example of why I don't get hung up on team licenses. Nearly identical (except for bat position) photos, and we all know who the player is, who he's playing for, etc. If Panini would specialize in finding/using photos like these, I think they'd dispel a lot of the criticism over unlicensed cards.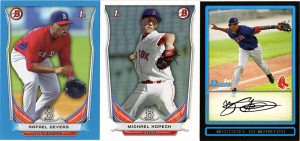 Another nice bunch of Bowman's. That Devers I think was numbered (/250?). Speaking of which…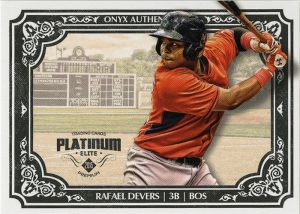 I really like the look of these Onyx Platinum cards, probably because they're essentially ripping off Museum Collection and/or Gypsy Queen. What can I say, I like retro boarders.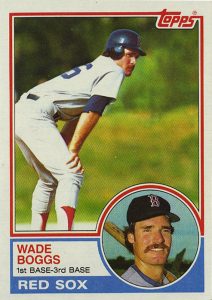 This was a pretty awesome inclusion in the package. A Boggs '83 RC, nicely centered (ignore my terrible scanning skills today), and in better condition that the one I had previously. This is now my top Boggs RC, and the other one can safely go in the player binder.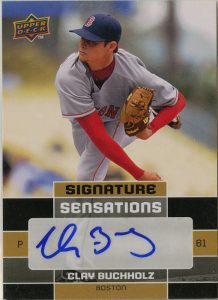 An auto for Mr. Jekyll Buchholz, and one that I didn't have. 2010 I believe. The last UD baseball release (essentially). As much as it pains me to admit, I can't see Clay on the team in 2017. They're going to be going after pitching at the trade deadline and in the off season to try and fix this bizarre rotation Boston seems to have and I can't help but think Clay is going to be the odd man out.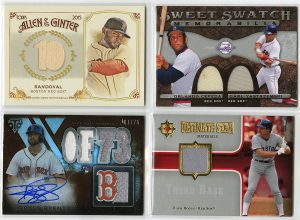 Last but not least, a smattering of awesome hits. Boggs and Yaz relics are just awesome, and Cepeda certainly doesn't hurt. That's quite the combo on the Sweet Swatches. The Triple Threads auto relic for Brentz is pretty sweet, I didn't have one of those in the collection yet. I didn't have the Sandoval Ginter card either, and I think Sam gave me that one as payback for all the Carlos Lee Astros cards I've sent his way, lol.
Awesome cards as always Sam! Thank you for everything!