There's always those random cards you pick up at random times that don't quite fit into a post on their own. Sure, I could mention how I picked up two Astros cards for no particular reason, but the truth is I just added them on to something else I was buying and I plan on giving them to Sam at some point. Does that entire train of thought deserve it's own post? Probably not. Am I going to show them to you anyway? Of course I am. lol.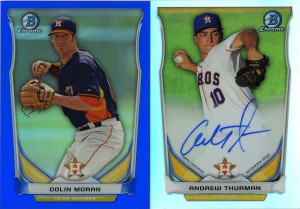 I had been browsing random sellers looking for a few Bowman cards and I ran across these two. I think the blue is actually /199 or something similar, and refractor autos are always nice.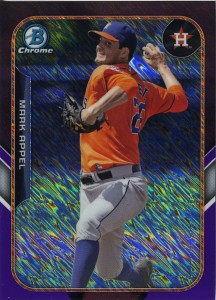 Here's another card I wasn't actually looking for, but I thought was nifty enough to add to the basket. I think the wave refractors were tough pulls, and the colored ones doubly so.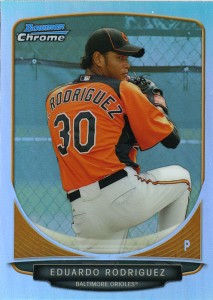 There's the card I was actually trying to buy. I'm on this kick to try and nail down the important/rookie/quintessential cards for current memebers of the Red Sox. Since Rodriguez factors into the starting rotation for the forseeable future, I figured a Bowman card (before his rookie card) from the minors made sense. I've got plenty of his cards from this year with RC logos on them, but I wanted that "first" card as well.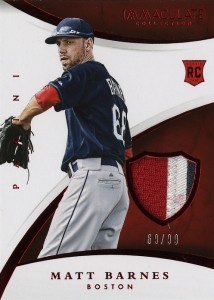 Speaking of random rookie cards. How about a Matt Barnes RC patch card from Immaculate? Not too shabby. I have no idea if Barnes will work out this year now that they've decided to make him a part of the bullpen, but hopefully the reduced innings and more time to perfect his control will be a good combination.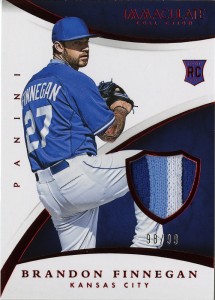 Finnegan, who got traded to the Reds in the Cueto deal, was just along for the combined shipping ride with the Matt Barnes. I love it when sellers just jettison nice cards for nothing. I have no idea what a box of Immaculate costs at the moment, but somebody definitely lost a couple bucks on this one. All the better for me. Trade bait if anyone wants it.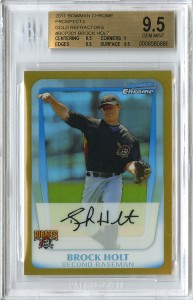 Now, that's a pretty nice pickup if I do say so. I already had a Gold border 2011 Bowman Chrome, but this one is graded. So, now I own 2 of the 50 copies of this, and the only one that's ever been graded (Population Report). Yay!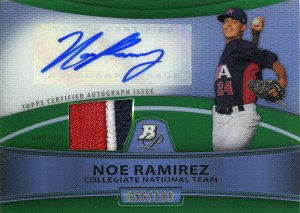 Last card for today. A very nice Noe Ramirez patch/auto from Bowman Platinum. Ramirez spent most of last year in AAA but got called up in Septemeber when Tazawa was shut down for the season and spent a month or so as the bullpen setup guy. He looked pretty good in his 17 appearances, with the exception of one really bad day against the Astros at Fenway (hit a batter, 4 runs allowed, etc). If he wins a bullpen spot in spring training he'll be a good bullpen piece, if not then another year in AAA should give him a bit more experience.
Apparently I was on a "bullpen pitcher" buying frenzy and didn't realize it.
In other news, the Houston card show is this weekend. Going to try and hit that and splurge on completely random junk. I'll be back next week with complete and utter random nonsense.