I was trying to update my "want list", which has quite a few random base cards on it, and I figured Sportlots would be a great place to finish off those checklists. I've ordered several times from there, always with good results. They deal mainly in base cards and everything starts at $0.18. In the past you had to specifically search for a card, but they had just added a feature to browse a sellers other cards after something was in your cart. This was awesome, at least for me, because I could add a card to two to maximize my shipping costs. Most sellers would let you add 8-10 cards before the shipping changed.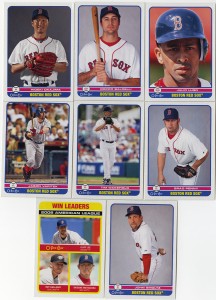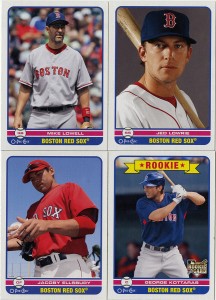 I started with a set I really liked, but was never able to finish: 2009 O-Pee-Chee. I don't know why I like this one so much, I just do. It just seems old school. It's still printed on cardboard, it's got a simple, retro design, and the checklist is crazy deep. I'm pretty sure there's a card for everyone on the 25-man roster from 2009, plus a couple others, plus a couple insert sets. I crossed off a huge portion of my list in one big order, but there's still a few more to find.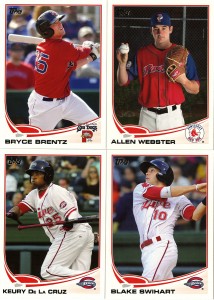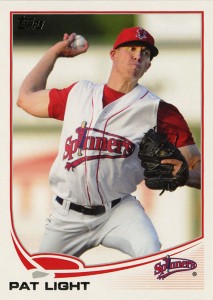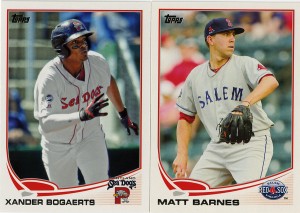 Next, about half the team set from 2014 Pro Debut. I had found the other half at a card show and I felt like the set had a strong enough checklist to try and finish it. There were some pretty recognizable names in this one.  Allen Webster, Blake Swihart, Pat Light, Xander Bogaerts and Matt Barnes specifically. Sorry about the random scans, all these cards came from multiple sellers and I just scanned them as they came in.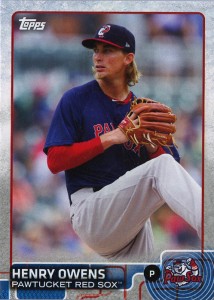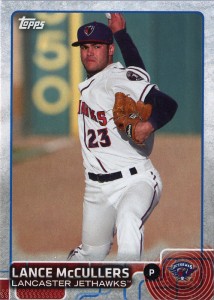 Just like the 2014 set, the 2015 Pro Debut is pretty solid. Thankfully I had 90% of the set already. Owens was the last Sox cards I needed, and McCullers was an addon for shipping. I figured it might be fun to try and get it signed here in Houston.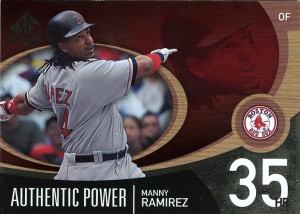 2009 UD SP "Authentic Power", which, sadly, we can probably all agree isn't really "authentic". Don't get me wrong, Manny had the eye for the ball, and the textbook perfect swing, but I wish he had just hit the gym a little more for his power instead of relying on PEDs. Fun guy to watch, but sad what he did to get there. Regardless, still needed the card, and I still collect Manny cards in general. I still need two or three more of these inserts even though I finished the base set years ago.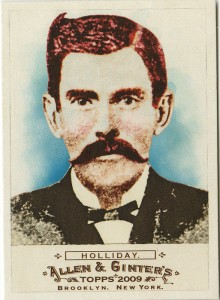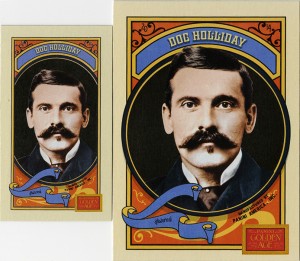 Here's a couple just for giggles. Doc Holliday. I can't believe I never had either of these. There's an Upper Deck SP somewhere that I did have, and I believe these are the only two other times he's ever appeared on cardboard. Not that I expected that number to be higher. "Gunslingers of the Wild West" doesn't really lend itself to baseball cards. I just figured these would be fun to have in my oddballs binder.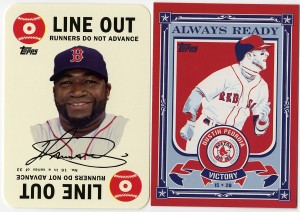 Speaking of oddballs, a couple random inserts. I'm not even really sure what sets these were from. They were add-ons when I searched sellers inventories for Sox players. I'm also not quite sure who's signature that's supposed to be on the Ortiz card, his autograph looks nothing like that.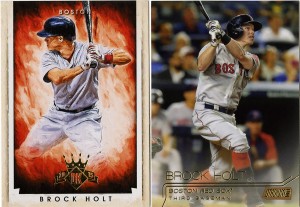 A couple Holt cards. The Diamond Kings was just an add on because I only had the one copy (in the team set) and I wanted a second for the player collection. The Stadium Club is a gold-foil version, so I grabbed it just for the sake of it being a parallel that I needed.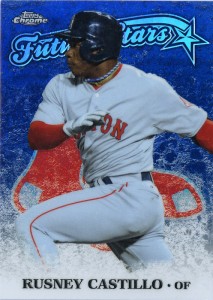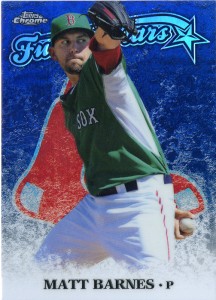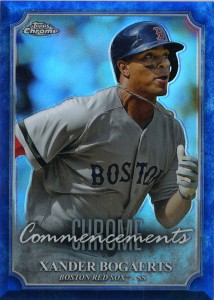 As I mentioned last week, I had changed my tune on Topps Chome. After avoiding it last year, I find myself trying to complete the 2015 set. These are about half the inserts I needed. I need one more Chrome Commencement for Mookie Betts, a couple autos, and FOUR "Chrome Culminations" which I'll never find because they're apparently "case hits". How nice.
That's about it from last months Sportlots order. I think everything in here was less than $10, even after shipping. Sportlots is like those dime boxes at a card show… only online. Love it.