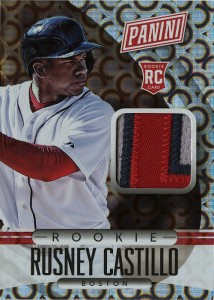 I figured I'd start off with the card so that it's clearer what I was actually talking about. I purchased this card back in November, I think. I didn't know anything about it, what it was from, or how rare it was. It doesn't have any numbers on it, or any details about the product.
I found it on ebay by chance. One of my saved searches is something generic like "Red Sox Patch". The seller only listed it as "Rusney Castillo Pyramid Patch", or something similar. It was the "Pyramid" that peaked my interest. The scan doesn't really do it justice. In hand, in the light, this thing is crazy looking…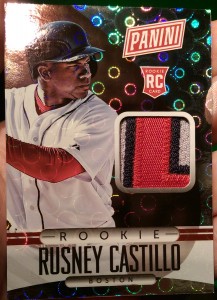 The whole thing is trippy and holographic.
Believe it or not, I won the card for about $4. Since it's now in my collection, I figured I'd better find out what it actually was. I started digging and found a post by Panini about a month before than National Convention talking about their VIP party and that the packs they were giving away were going to have all kinds of crazy stuff in them, including something called a "Pyramid Refractor". That was a start, but these certainly don't look like pyramids, so I kept looking.
Next was a checklist on Cardboard Connection. It said…

"Rookie Memorabilia" and included Pyramids. Castillo was on the list. Getting closer. I was still a little worried that it wasn't numbered.
With "rookie memorabilia" and "pyramid" added to the mix, I tracked down a gallery post on Panini's site about their VIP party "gold packs".
"Panini America Offers Must-See Peek Inside the 2015 National VIP Party Gold Packs"
I was let down, there wasn't any photos of anything that looked like my card. I thought I had it. They talked about their gold packs, mentioned the refractors, but mostly showed off football cards that were completely different.
Then I noticed the "related posts" at the bottom, and saw this…
"On the Button: Panini America Examines the Prime Memorabilia of the 2015 National"
Finally! About half way through, I spotted this…
There it was, or, at least one of it's /10 brethren. I checked the photos in that gallery and most aren't numbered, but according to Panini, and their various blog posts, what I have is a…
"2015 National Convention, Panini VIP Party, Gold Pack Exclusive, Rookie Memorabilia, Rusney Castillo Pyramid Refractor Patch" of which, only 10 were made.
That was a mouthful.
I never really thought it would be from some exclusive VIP party pack. I'm pretty happy it's /10, even though it doesn't say it, but I'm just happy to have it in my collection, whatever the heck it's actually called.