After I showed off that 5/5 mini yesterday, I thought about some of the other minis from 2015. Then I realized I had no idea if I had finished collecting the Ginter or GQ minis this year. I've been terrible about keeping track. I have no lists of cards I need for the past year and a half or so. Thankfully, I did have the sense to at least put most of them in binder pages, so it was just a matter of checking.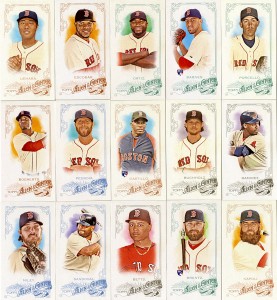 Now that's a nice looking page. I'm not really sold on the different colors for the borders for this year. Some work, but some don't, especially that weird red-brown. I'm also not really sure why they chose that photo for Mookie Betts, it looks completely out of place. Other than that it's a pretty solid group of minis.
According to the checklist I just need the Shane Victorino SP, which I'm not too terribly concerned about. I'm sure it'll cross my path at some point.