I'm not exactly sure what my plan was regarding this card. It's not like it fits into a box, or a page, or even my display case. Regardless, nabbing a 1/10 5×7 "Topps online exclusive" card for next to nothing was rather appealing.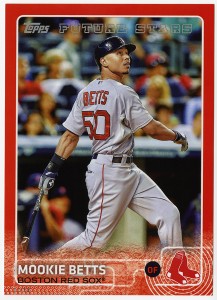 It's big, it's huge, it's 5×7 for goodness sake. I love it in it's "I'm a wacky, different, sort of card" way. Apparently the regular versions were available online, but the red versions were only available in a set, and there were only 10 sets, so says the page on Topps.com (see here). They were also apparently $2k. Woah. So, some dealer got their hands on a set and split it up and sold them individually on ebay. The seller I bought this from had pretty much the rest of the set as well.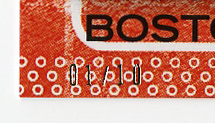 1/10 certainly isn't shabby. The only real problem I can see is that Topps didn't really seem to care about the production value. They used the same card stock, which is fine at 2.5×3.5, but starts to feel flimsy at 5×7. They also just "enlarged" the card design instead of recreating it at a higher resolution. You can see the obvious printing dots with the naked eye…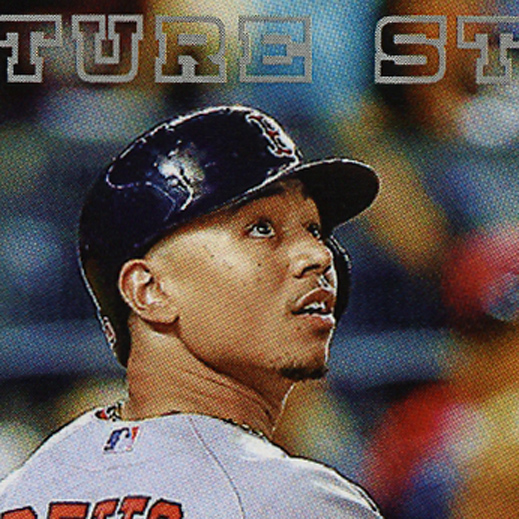 Lastly, they didn't even bother to foil stamp the logo or the Future Stars writing.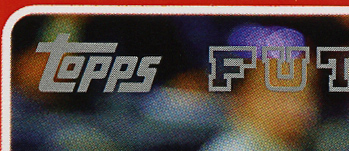 I mean, if you're willing to do that for 700 cards x millions of copies, why can't you be bothered to do that for TEN copies of something you're selling for big money. Oh, yeah, that's right, it's all about the money.
In the end, I don't really care. It's a conversation piece in my collection. It has the coolness to stand on it's own, and I can't believe I got it for less than $10. Oh, and did I mention it's huge?