A week or two ago it was time for the annual Tristar Collectors Show in Houston. I never really go with a ton of cash, so I don't make any huge purchases, but I do enjoy just thumbing through dime boxes for a couple hours. Truth be told, this year I think I ended up buying more supplies (about $40 worth of mag-holders) than I did cards. I think all together I spent about $35-40, including two completely overpriced cards I'll mention in a minute.
I also ran into the now "Beckett famous" Tanner from "6,000,000 cards and counting" as I was walking in. I complemented him on his epic mustache and told him how I had enjoyed seeing the custom cards he had been creating over the time I had been reading his blog. He said thanks and I apologized for being some sort of random creepy "guy from the internet" and left him alone.
Anyway, you're not here to see $40 in plastic holders, so I suppose I should get on with it…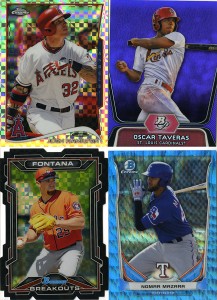 I'm going to do this slightly out of order because I scanned some cards, and photographed others. As I had mentioned previously, I bought a light-tent for taking pictures of refractors, and they look more impressive individually, so I'll put those at the end. For starters, a couple random non-Red Sox. The Fontana is probably one of my better pickups on the day. Numbered /99, it'll probably end up in Sam's collection at some point.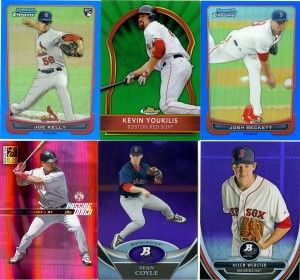 I should have mentioned earlier. ALL of these cards, with two exceptions, are dime/quarter box finds. That red foil Manny in the corner is one I'm especially happy with. Numbered /1000.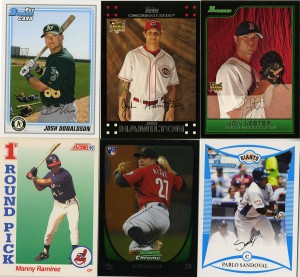 Some interesting RCs for no reason whatsoever. I like Donaldson as a player, I have a small PC going for Hamilton (very happy he's back in Texas), same with Altuve. The Manny, Lester and Sandoval were just lucky finds that I probably already have, but extra copies never hurt.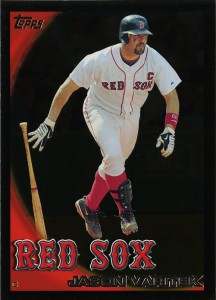 2010 Topps "black" Jason Varitek. My Tek collection never gets enough attention. Actually, there's a surprising lack of Varitek cardboard. I've been contemplating knocking out like 80% of his known cards in a single purchase from someplace like JustCommons.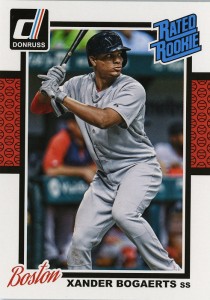 Rated Rookie Bogaerts. One of those "I'll pick it up someday" cards that didn't come with the team set I bought last year. Today was that "someday".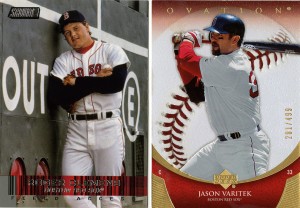 Stadium Club "Field Pass" Clemens, another "someday" find. The Varitek was a gold parallel out of 499.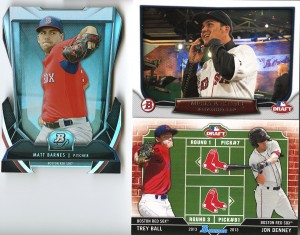 Bowman Platinum Matt Barnes diecut, and two random Bowman Draft inserts I hadn't gotten around to tracking down. I was having some seriously good luck with crossing things off my checklist at this show. I would never have paid $0.99 + $3 shipping for either one of these off of ebay, but at $0.10 in a box at a show, you bet.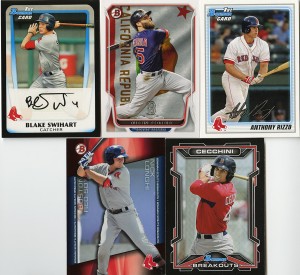 A few more Bowman. The black border Swihart is a new addition to the PC. The state flag Pedroia goes nicely with the team set, and the other two at the bottom are, again, more inserts I needed.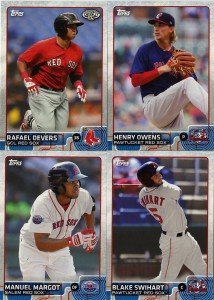 This is about half the "Pro Debut" team set. The Swihart and the Devers were the two I really wanted. Interestingly, the guy that was selling these and the Diamond Kings (below) was busting boxes right there at his booth. He was pulling the hits and parallels and putting everything else into the dime box. Loved it. I sat there watching him for a few minutes and then came back towards the end of the day and cleaned the box out of anything Sox related. I got "box break" cards for pennies.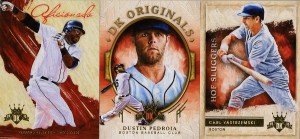 Same thing for these Diamond Kings inserts. He was looking for the relics and autos and I scored 3 inserts from what is quickly becoming my favorite set of the year.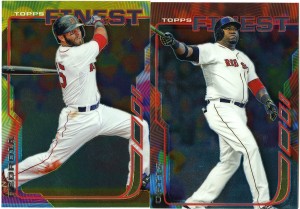 Topps Finest from 2014. I wasn't the biggest fan of these initially, but they're growing on me. I really like the 2015 set, they remind me of some of the Bowman Platinum inserts. As for these, I already had numbered and xfractor parallels of both, but not the base cards. Another checklist taken care of.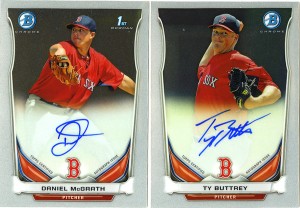 Autos in the dime box? Yeah. I think it was actually a quarter box, but the point is still the same. If your name isn't Bryant or Buxton or Devers, your autograph isn't really going for much these days. I don't have any expectations for McGrath or Buttrey, but in the odd chance they make good in the majors, there's two autos I'll already have.
Funny tidbit. I have a /100 Bryant black border. I also have a Buxton auto. I considered getting both of the graded, and had brought them to the show in case the Beckett folks were there. I opted not to send them in (going to group up more for a better discount), but I kept an eye on graded cards at the show, and always asked about prices. Two things stood out:
First, a Kris Bryant rookie, graded 9.5/10 is like currency at a show. I saw at least 4 dealers trading stacks of them. I kid you not. They want about $70 a pop for them, and people can't keep them in stock. I saw one guy trade a /5 Supreme auto-relic for 5 or 6 Bryant RCs because he knew he could flip them easier.
Second, there are two types of vendors. Guys flipping graded cards, and the old guys with boxes of stuff from the 90's, desperately clinging to book prices. The guys with the graded cards are moving serious money. They're tossing $500 slabs back and forth like poker chips. The other guys, that's where I find not only what I'm there for, but also a lot of resistance to change. Most guys at that end of the spectrum don't get to worked up over if you have 20 cards for a dollar, or 21. A tiny few however, they cling onto book value like there's nothing else in the world, like supply and demand don't exist. Case in point…
1999 Bowman's Best Nomar Garciaparra. I pulled this from a box with no label. I asked how much for the things in said box and the vendor said "don't worry, I'm always fair, just let me know when you're done looking". Ha. I know how much this card is worth as I'm looking through his boxes. I figure it's about a $3 card. I'm not far off – Prices at COMC. $2.50. The only other card the guy has that I'm interested in was this…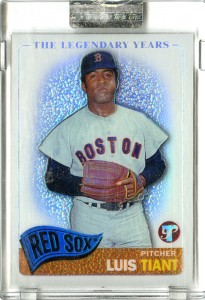 2005 Luis Tiant Topps Pristine. I figure that's also about $2-3. Even though it's the slabbed refractor version. Both cards are /1000, but aren't by any means high-end. They're also 10+ years old. The guy wanted $8 for the Nomar and $10 for Tiant.
That's nuts. I don't care what Beckett says. The latest copy I have has the Tiant at $5 and the Nomar isn't listed. I really wanted the Nomar for my PC, so I was willing to work with the guy, but $18 wasn't going to happen. I talked him down to $8 for the pair, which is still considerably over-paying. I'm not happy with what I paid, but I'm happy I liberated these two awesome cards from a guy like that. They both, for the record, wreak of smoke, and the Tiant's slab is completely gross. I've pretty much decided it needs to be set free, and put in a mag-holder, Topps seal be damned.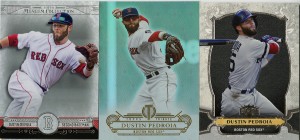 So, we go from completely over paying for old cards, to completely under-paying for new ones. All three of these higher end base cards (Museum Collection, Tribute and Triple Threads) were found in the cheap boxes. Nobody wants base when they buy Triple Threads, so it's sort of understandable. Their loss, my gain.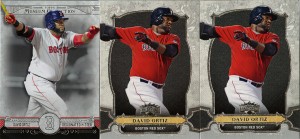 I could have sworn that second Ortiz was a colored parallel when I bought it. Oh well. One for the team set, one for the player binder.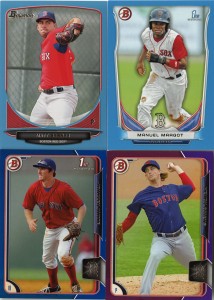 A few more color border Bowman parallels, both this year and last.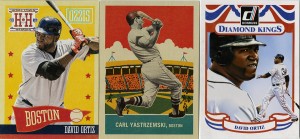 Three epic inserts. The Howntown Heroes is the "zip code" stamped version, kinda rare. The Yaz from Golden Age is the one card I wanted so badly from that set. I love that card. I want to scan it at 1200dpi and print it as a poster. It's that awesome. The DK is my least favorite of the bunch, mostly because it was within Donruss. The Diamond King treatment, as seen above, can clearly stand on it's own, and it doesn't need an ultra low-end product to be associated with it. Still a cool card though.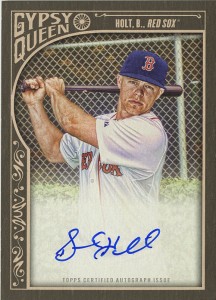 Believe it or not, I found a Brock Holt auto at the show. $4. I could have gotten it for considerably less, but it was just meant to be.
Lastly, I won't comment on these, I'll just show them, because the rainbow shiny needs to be appreciated and my rambling doesn't really add much. You can identify what most of these are anyway. Here's a small taste of what some nice lighting can do for cards. The one I will mention by name is the first one. That's the blue /199 version of the Bogaerts "Future of the Franchise". Very nice card. Enjoy the shiny!