I was going to say "What I've Been Buying Lately", but that's George's thing, and I didn't want to sound like I was ripping that off. Quite honestly, this spring has been absolutely boring. With the exception of Gypsy Queen, which I'm on the fence about, and Diamond Kings, which I've loving, there hasn't been anything to really get excited about. Bowman is boring this year, I can't actually find any USA Baseball or Prizm for that matter, and nothing else interesting gets released until Ginter in July. I was going to pick up some Americana, but then I saw the checklist was mostly hollywood stars and musicians and kind of tuned out. So, random single cards with combined shipping was the order of the spring.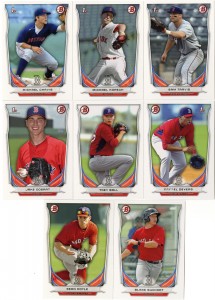 I've probably said this too many times now, but I still don't "get" whatever the product managers behind Bowman are thinking. This isn't Bowman, or Bowman Chrome, this is Bowman Draft. Let's be honest with ourselves. No one cares about the MLB draft. Nope, no one. 90% of these guys will never play in the majors and those that do may only be around for a season or two. Bowman needs to consolidate both Chrome and Draft into the main Bowman product and be done with it.
The only two cards I cared enough about to actually look for this team set were Swihart and Devers, and the Devers card showed up with the foil screwed up. So, there ya go.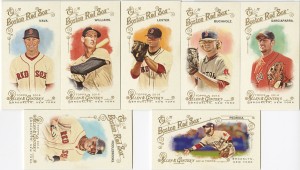 Minis. I do love minis. I still try and track down as many as I can for my team sets and this was about half of the collection for last years Ginter. There's quite a few I still need, but it's a start. Come to think of it, I still need a few from pretty much every set with minis from the past couple years. I hate that these are hard to chase down. I can't justify spending $3 a piece on a mini, I don't need them that badly, so I keep my eye out for lots like this one.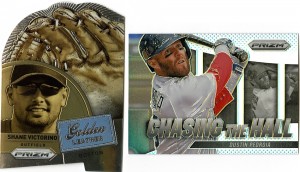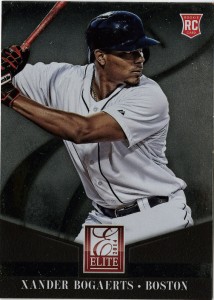 Random inserts from Panini products. I needed the two from Prizm just from a completionist point of view. I had purple versions of both, but not the regular ones. I still need the Ortiz "Chasing the Hall" as well. The Bogaerts I just picked up because of the RC in the corner. Finding that sort of thing 5+ years from now is just a pain in the butt. If $0.99 saves me a headache later, I'm all for it.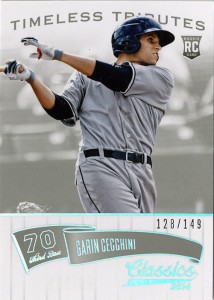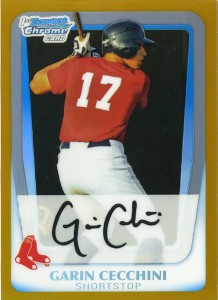 We've reached the Garin Cecchini portion of our program. The Gold /50 Bowman Chrome is certainly more impressive than the Timeless Tributes (to what?) rainbow foil /149, but this is actually a good example of how logos don't make any difference to me whatsoever. The Bowman card is officially licensed, and has the Red Sox logo in the corner, but the photo sucks and you can't tell what team he's on without it. You certainly can't see his jersey or helmet. The Panini card has a considerably better photo, but doesn't even say "Boston" on the front of it. At all. Anywhere. I happily welcome both cards into the collection. Some people flip out over this stuff. Me, I'm just happy to have the cards.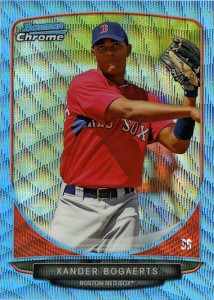 Bowman Chrome Blue Wave. Catch the wave? I hate the wave. I'm a sourpuss at ball games. I loathe the wave. I will deflate your beachball. I'm there to watch the game. This wave however, I enjoy. I think I even already have one, but it might be the black wave instead. I can't remember. First world problems, right?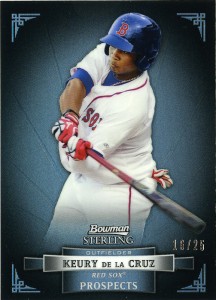 Sterling Keury De La Cruz 16/25. Why? I have no idea. I like low numbered things. There, I said it. The marketing has worked. Topps, you hear that!? You won! I'll official buy things just because you put stupid artificial foil numbers on them! You happy now?!
Sigh.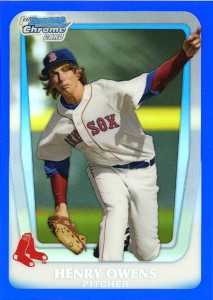 Finally, someone that might actually make the majors. My Henry Owens collection is severely lacking, as in: nonexistent. Figured a /199 Bowman 1st Card was probably a good place to start.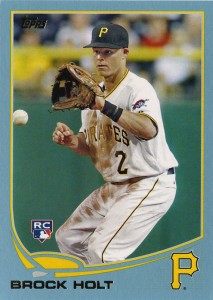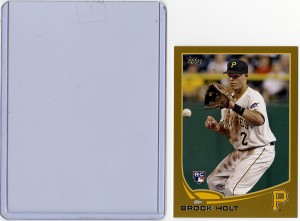 Just filling in some of the missing pieces to the Brock Holt collection. I have a blue, gold and red refractor from 2011 Bowman Chrome, but I was missing the lower-end, unnumbered purple and green xfractor. I think there's an orange left and then I'm official done with that rainbow as well. The 2013 Walmart blue was another fill in. I have the harder to find ones covered at this point (I usually start with those) and work my way back to something like this. The one I can't seem to find is the Toy'R'Us purple border. The mini was something I didn't even know existed. I knew they made a "mini" set in 2013, but I didn't realize they made parallels. I have no idea how these were even originally acquired. I thought the minis were a factory set. Either way, it's a nice /50 mini.
I'm fairly late to the USA baseball game from last year. I always wanted some, but my retailers nearby never have any. If I don't find them online, I literally don't find any. I had been trying to pick up another Swihart auto for a while, and this fit the bill nicely. Not the most flattering photograph, but I'll take it.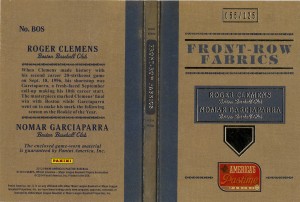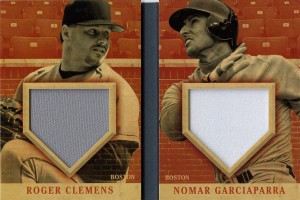 Last but not least, America's Pastime, "Front Row Fabrics", giant duel relics of Roger Clemens and Nomar Garciaparra. I love, literally, half of this card. Well, technically, I love the design of the entire card, it's just that toolbag on the left I don't like. I think I've told this story before, but Clemens literally shattered the illusion of celebrities for me the first time I met him. I was 8 or 9, at Fenway, all spiffy in my blue shiny authentic Red Sox jacket, looking to get his autograph. We were all standing along the first base side and he comes out to warm up. He walks up and down for a few minutes, then comes closer and starts to sign autographs, sort of. He's asking for money for each one. He comes over, I hand him my ball, and he asks for $20. I didn't have $20 and neither did my dad. He said sorry and handed the ball back to me and walked past. That pretty much cemented the concept in my mind that some people are just jerks. No, celebrities don't "owe" fans anything, except basic respect as human beings, and he didn't owe anyone an autograph. If it's just such a chore to do "for the fans" that you're charging for your time, why do it at all? Why not just say "I don't sign stuff" and not come over to the seats? Since that day I've put autographs in that category of "nice to have, but not necessary" if I'm seeking them out in person. Card shows are a little different, most of the time the signers there are retired and you're paying for their time and "appearance" in general, so I'm more ok with it. Active players should just never be asking KIDS for money from the stands, that's where I draw the line.
Anyways. Clemens can literally fall off the planet for all I care. I bought this card for the right-half only, and because booklets are a neat concept.