When I saw the initial "preview" of Diamond Kings a couple months ago I thought I could safely ignore it as a product I didn't really have any interest in. Then I saw the checklist. Then I saw it in person. Now I'm all in. I love these cards. They are awesome. Panini has done an exceptional job with these.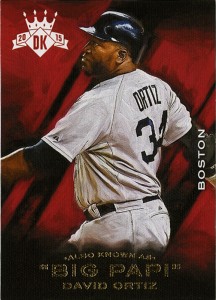 That card is incredible. The texture on the paper, the excellent job with the photo into artwork Photoshop'ing (I'm assuming), just the basic design. I've been too busy looking for awesome autos and relics that I haven't even picked up a true base card yet. This insert from the "Also Known As" set is the closest I've got. Great concept for an insert set as well.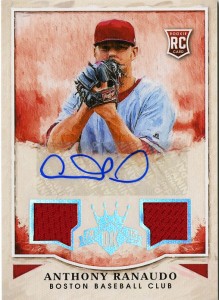 Ranaudo duel relic auto. This and the Barnes below are both /199. Sadly Ranaudo was traded to the Rangers for another pitcher (Robby Ross?). I still love the design and the duel red relics. The sticker is a bit of a shame (and I'm NOT a big sticker vs on-card guy, I don't tend to care) just because the design being so "artsy" would lend itself to on-card autos. Then again, the texture is substantial, maybe they would have smeared or looked jumpy or something.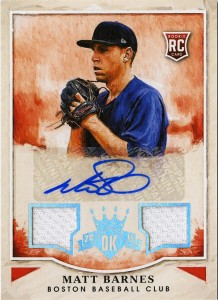 Another duel relic auto, this time for Matt Barnes. I love these, they just look awesome in hand.
Now, the rest of these are all Brock Holt cards. Just warning you.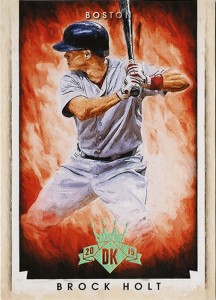 Not just a base card but the 10/25 Gold Foil parallel.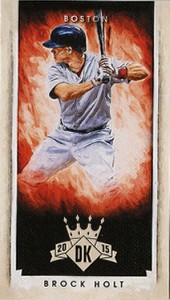 Mini version!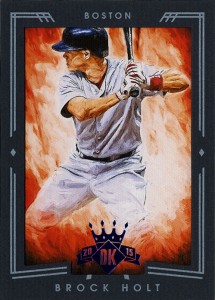 Blue border/foil, 80/99.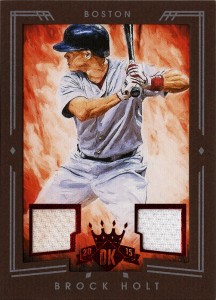 Red bordered/foil duel relic. Look at that dirt! 28/49.
Red borderd/foil duel relic auto, 79/99.
"Sketches & Swatches" auto relic, 63/99.
There you go. A little Diamond Kings "brockstravaganza". I still need the "blue duel relic /25", "blue relic auto /25", "mini relic /49" and the plain old regular base card. These are going to make an epic binder page.