Ok, four cards isn't a ton, but that title sounded better than "a whole lot of Swihart".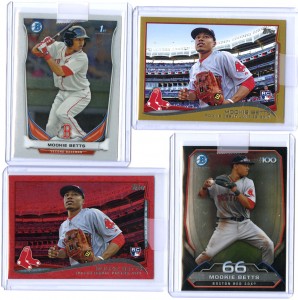 I stumbled across a seller on eBay with "rookie lots" and picked a couple of them up for $0.99 each. I had a regular copy of the two horizontal RCs, but never picked up the foil and the gold. The Bowman "Top 100" was hard to find and I had never gotten around to it. The regular Bowman Chrome was the only one I already had, and there's certainly nothing wrong with having an extra copy. These are a good addition to Mookie's growing section of my Player Collection binder.
The same seller also had two different lots of Swihart cards. 2010 Bowman Chrome with Blake on Team USA and 2011 Bowman Chrome with him officially in the Sox organization. I had a non-Chrome copy of both, and figured a few extra couldn't hurt.
Just stocking up on random rookie card. Huzzah for combined shipping!