What does that even mean? I have no idea. All I know is that the collection has gone from "pretty complete" to "woah, you've got issues". There is so much Brock, including some ultra-rare goodies.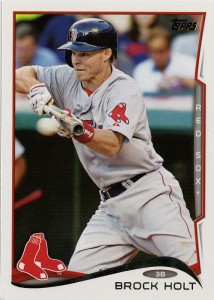 Let's start off with the easy stuff. 2014 Topps Update finally featured Mr. Holt back on a base card. His last Topps flagship card was a rookie in a Pirates uniform. Anyway, let's take a look at the rainbow…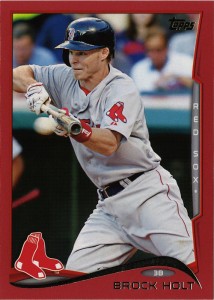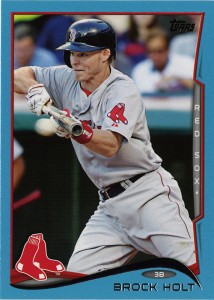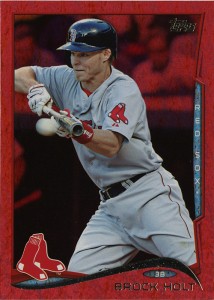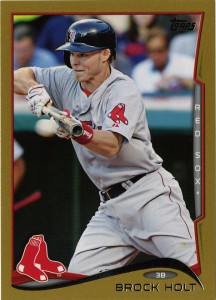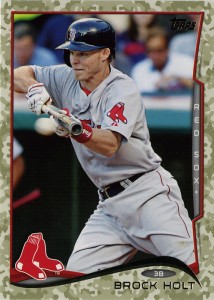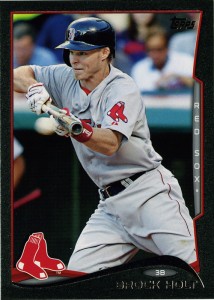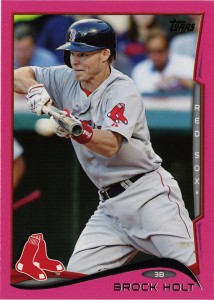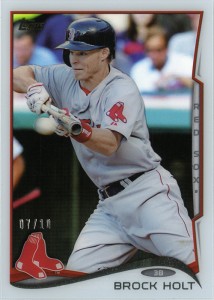 As far as I know, there was no Toys'R'Us exclusive Purple borders. Please, someone correct me if I'm wrong, but I've yet to see any. The Black is /63, the Pink is /50 and that epic acetate card is 07/10. Woohoo! Those clear cards are actually pretty neat. I like them more than the silks or just another random border color. Want to see the back?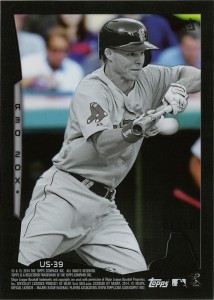 Neat huh?
That wouldn't be half bad if that was all I had picked up over the winter, but we're just getting started.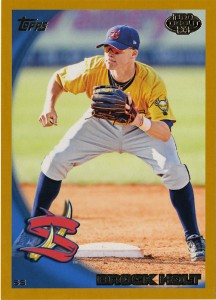 Gold /50 parallel for his 2010 Topps Pro Debut card. Allegedly there's also a /500 blue border as well. That's still on my to-do list.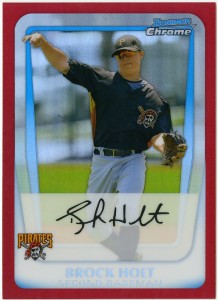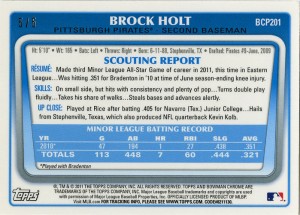 5/5 Bowman Chrome. Wow. That's as rare as those get without being a super-fractor. The auto version of this is sitting at $399.99 on ebay. I don't think I'll ever have the funds to make an offer on it, but the unsigned version for less than $10 was certainly do-able. I couldn't add it to my shopping cart fast enough.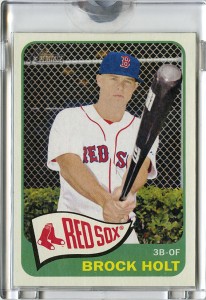 Hmm… an unsuspecting Topps Heritage High Number. But… why is it in a slab???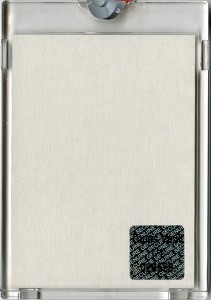 Yeah. That's why. My first purchase directly from the Topps Vault. Very pleased with this one. Came with the Certificate of Authenticity and everything.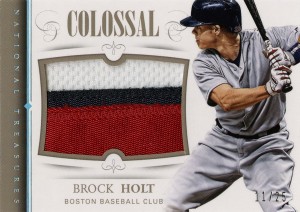 I love National Treasures, and this year was no exception. I couldn't care less about licenses on these because the quality of the cards is just so much above and beyond. These are what Topps should be using as a yard stick for things like Museum Collection, Supreme and 5-Star. Easily my favorite premium product and when I learned there was a Holt card in the checklist I stalked ebay like a cheetah hunting a gazelle. This beauty here is 11/25. Brock doesn't appear to be in the other checklists (smaller relics, autos, etc), so it's just these "Colossal" relics. I also haven't noticed any /399 versions either, so I'm pretty sure he's a SSP. I fought tooth and nail for this one, I knew there were only a few, and that patch just looks ridiculously awesome.
Then, I saw this.
Woah. 03/10. Patch. Part of the team name. DIRTY. Check, check and check. I blew all of my remaining card budget for December on that one. It was completely worth it. That's the sickest card, of my favorite player, ever made. Period. End of Sentence. Selah.
In case you're wondering, that one went directly into my display case. It didn't break my heart to remove a Josh Beckett patch to make room for it either.
Phew. A 7/10 acetate, a 1/1 blank back, a 5/5 Bowman Chrome and these two monster patches. December was awesome. Happy Birthday to me!