The checklist gods have been exceptionally merciful this year. Red Sox cards are actually down to somewhat normal levels. A short print here, a hard to find auto there, but for the most part team sets were absolutely the way to go. Since that's the bulk of my collecting, I suppose I should get around to talking about them at some point. It's also nearly the end of the year, which means just about everything has already been released, so it's a good time to go back a month or so and look at some team set picks ups from the Fall and Winter.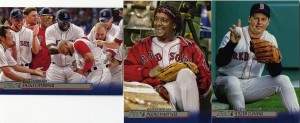 Let's start with the re-birth of Stadium Club. I always liked Stadium Club and it's iterations from the 90's and 2000's were always interesting. From a photography perspective, and as a photographer, they were the kinds of cards I always wished I had a hand in making. Being the photographer on the side lines of a major sporting event is a long held dream of mine. Perhaps one day I'll make it a reality. Until then, I can appreciate the work that went into cards like these. The design is subtle, the photos are the major draw, and the parallels are completely ignorable, making putting your team together relatively easy.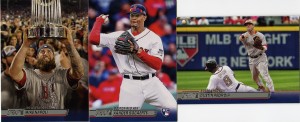 That photo of Napoli is awesome. The perfect photo for that card. Bogaerts also has a fairly nice RC in the set. Higher end RCs are usually in demand later on in a players career and typically harder to find after the fact.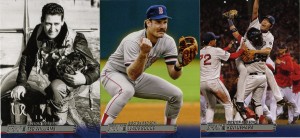 The Ted Williams card in this set just impresses the heck out of me. Not only is it tastefully done, and a nice nod to his military service, but it's a good example of the product thinking a bit outside of the box. It also reminds me of a couple of the 1959 Ted Williams cards. This is one of my favorites.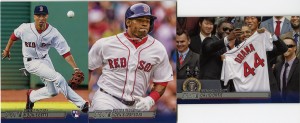 Last up for Stadium Club, a very nice Mookie RC, and a slightly humorous David Ortiz selfie with President Obama.
Next up, the ever mundane Topps Update!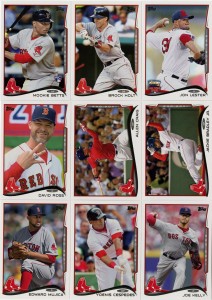 FINALLY, an updated Brock Holt card in Flagship. It's about time. This of course means that I'm going to try and collect the entire rainbow (spoiler alert –  I'm already done!). Mookie gets another RC, always nice. I'm thinking I'm more of a Mookie Betts fan than I am of Xander Bogaerts. Although Bogaerts had been getting all the cardboard love with multiple inserts throughout the year, I'm glad to see Betts finally getting a few of his own.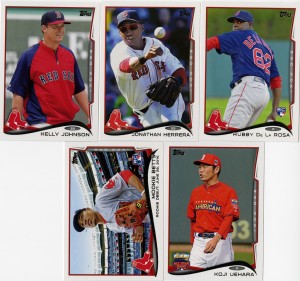 Speaking of. Not only does Betts get a regular RC, he also gets a "Rookie Debut" as well. Also, why does De La Rosa's card have an RC logo? De La Rosa went 4-5 with the Dodgers in 2011!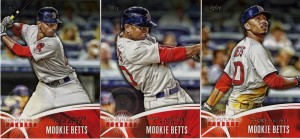 Yay, Mookie inserts. Like how I put those three side-by-side. It's like a little story.
Thankfully, the Sox only had cards in two insert sets in all of Update, which is great. Less to try and track down. That said, I love the World Series Heroes set. It looks like last years Museum Collection. Doesn't hurt that it also features everyone's lovable idiot ManRam as well. Can this please be a thing moving forward?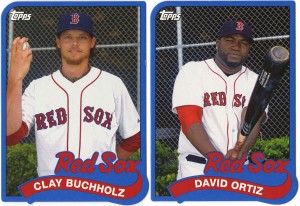 …and I hate these. HATE these. I had 1989 (pretty much entirely), I hate that they resused photos from Heritage, I hate those stupid poses, I hate that stupid shrubbery. Ok, maybe I don't hate the shrubbery, but seriously, what is the point of these?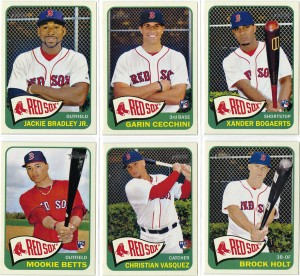 You think I was kidding about reusing the photos? Nope. Look, it's the same stupid hedge in these Heritage High Numbers. Brock Holt and David Ortiz have the same stance and nearly the same facial expression, in front of the same chain link fence. Honestly Topps, if you need to make inserts, at least use action shots from games.
As for these, they are indeed Heritage High Numbers. I really dislike that a set that was available in retail (Heritage) has it's shorter printed, high numbered cousins available only as a hobby exclusive. Actually, wasn't it online only from Topps' website? I don't remember. All I know is that A) that's rediculous and B) it's got a Brock Holt card in it so I had to actually buy some. The multitude of RCs is nice as well. I'm big on Cecchini and Vasquez as players. I really hope all the young guys shine in 2015.
Speaking of Heritage sets that make little or no sense…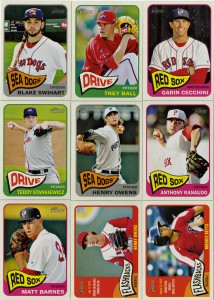 Heritage Minors! Where the names are the same, we've just recycled the design and used the Minor League Teams. No RC logos, check. Recycled Insert design, check. Bright pink for no reason, check! I like Minor League cards, I really do, but can we all agree that it's a Bowman thing and just move on. There's really no reason for this set. Especially not with…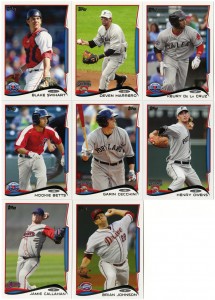 Topps Pro Debut. So, lemme get this strait: It's basically base level Bowman, with the Flagship design? Whatever. I don't know why I have less of a problem with this one. In general I just don't see the point. Why dilute your Bowman brand with multiple sets under the Topps banner? Then again, why make high-end Bowman products (Inception?) when historically it's always been about the rookies and base cards. When I get that meeting with Topps executives, these are the questions I'll ask.
Hey, look, a Blake Swihart card. I'm good.
Last but not least, something not from Topps. A little retro Panini action.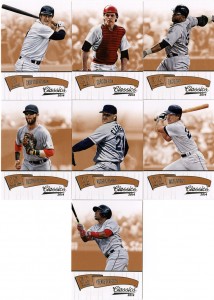 2014 Panini Classics. Reminds me of Hometown Heroes (in a good way). Could have probably picked a better background color, but other than that I like them. Classic players plus current players is always a buy for me.
Classics also includes a few RCs as well. Betts, Bogaerts, Cecchini, and Vasquez. A nice quartet of guys to keep an eye on.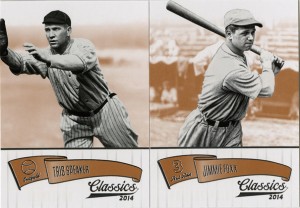 These two (along with the others) I picked up off SportLots, where they didn't have photos or team information. I saw Speaker and Foxx on the checklist and just assumed. Nope, Panini has them down as Cleveland and Philly respectively. That's ok, they're still going in the binder.
That's mostly it for entire team sets. There are a few loose ends floating around here that didn't make it to the scanner (Stadium Club insert, etc) but I think I did a pretty solid job of not leaving a lot of stuff out there to chance in the off-season. A couple SPs, a couple inserts, nothing to lose any sleep over.