I think, in all honesty, that his is perhaps the most perfect unlicensed set in existence. I love that Panini tries different things rather than resting on their old ideas (ahem, Topps, are you paying attention?). The set is retro, it's bright and colorful, and it's filled with all of my favorite players. With the exception of air-brushed hats, this set is near perfection.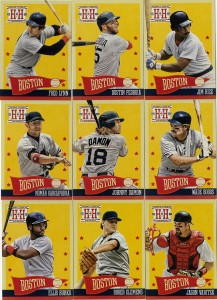 I feel like an idiot for missing the ball on these originally. I never saw any in a retail setting, and they seemed fairly didn't seem to stick around very long. To my knowledge, there wasn't a 2012 version and there isn't a 2014 version planned, so maybe these were just a one-off or a test product to see how they were received. They're an interesting blend of Golden Age and Heritage and the yellow (love it or hate it) really stands out. These eventually came to my attention after I received a Shane Victorino "Flyin Hawaiian" insert in a trade and the Jason Varitek in a card lot. I looked up the set and a seller had the entire thing for roughly $3. Done and done.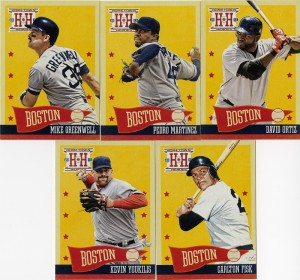 The checklist is just awesome. Pedroia, Nomar, Boggs, Tek, Youk and even a few players from my youth like Rice, Burks and Greenwell.
I really like these and I'm glad I spotted the ebay listing for the set. Now I can try and find a couple inserts and call it complete.