Chrome doesn't have issues, well, actually that's a lie (it has plenty), but it's more of a "me problem". I don't actually like Chrome. I know, that's nearly heresy. I keep buying them and I don't really know why. It's like buying a car, keeping it nice and shiny, and never driving it. There's just no point. I don't "get" Chrome. It's the SAME SET as flagship, only smaller. It hardly has any exclusives except usually that one rookie card everyone wants and it over-printed anyway. The auto checklist is slightly different and the inserts are somehow more insane. The only real reason to like Chrome are the parallels. If you like chasing the rainbow, Chrome is your crack. I guess that's part of the appeal and even a little bit why I buy some, but it's a terrible affliction to have. There's really no end once you start chasing parallels.
I start simple, with just a team set…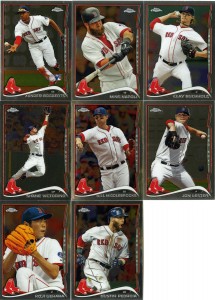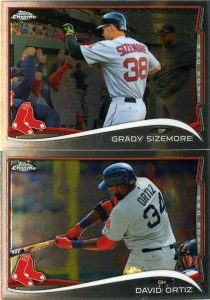 And this is where the anger starts to build. The Red Sox released Sizemore on June 18th. There are other people, on the roster, as active players, who had a card in Series 1 or Series 2, who could have been in Chrome instead. Isn't Chrome's shortened checklist supposed to be top/popular players anyway? You're going to have Sizemore card instead of John Lackey, or Nava or Doubront, or Bradley? Believe it or not, this is slightly more forgivable than Series 2, which had so many released and traded players it was crazy. I fully expect (and will be furious if it doesn't happen) that the Red Sox checklist in the Update series will be huge. PS: Where the heck are my 2014 Brock Holt cards? Topps, WTF? Moving on…
The other issue I have with Chrome is the hobby box set up. After buying a box of 2012 and a box of 2013, it's become abundantly clear that "getting what you want" is not part of the deal. The refractors and colored parallels are far too few and far between, the autos are terrible and it's generally just a mess. Unless you're busting a case, or pull a super-fractor there's no earthly way you're going to walk away happy with Chrome. So, what's the alternative?
You capitalize on the misfortune of others.
All of these, and the ones I'm about to post below, came from a single seller, as two lots, for under $5 combined. Some poor case buster was looking to make his money back on his terrible investment, and I walked away with pretty much what I wanted for pennies a card.
Yup, those are Blue parallels (/199) and even the /99 Sepia Lester in the bottom corner. This is how I buy Chrome. No more 4 card packs, no more blasters of junk. "Lots" of cards no one else wants, so much so that the sellers hardly even list anything beyond "you get all the cards in the pic". Love it. All together I'm one Mike Napoli refractor away from a complete set of those, a 3 X-fractors short on that set. I won't bother chasing the blue and the sepia. I get my fill of Chrome pretty quickly and then give up. That's ok, it's not like anyone is hurting for parallels to chase these days.
That also fits with my philosophy on parallels anyway. It's the "nice if you've got them" principle. I don't need any parallels. I need, in the deep seeded, completionist, collector sort of way, I need the base team set. I must have it. The parallels, they're nice, they're shiny, but after a couple, I'm good. I don't go nuts chasing down every single variation. I've tried to do that with my Holt collection and it usually only ends in pain. One parallels is nice, two is better, but I'm never going to lose sleep over not having that 16th and 17th copy.