I previously mentioned my dislike of Topps Chrome, and that buying the misfortune of others in large lots was pretty much my bag. The same could be said for Bowman Chrome, although I have less of an issue with Bowman Chrome due to it's slight differences. While Topps Chrome simply reuses the checklist and the photos from Flagship, Bowman at least changes it up a little. Sometimes different photos, a different group of prospects, etc. I had seen basic team sets on ebay for anywhere between $6 and $15, but I felt like I could do better. I wanted that "master set" but didn't want to break the bank. Luckily, I found two sellers looking to offload a case's worth for next to nothing. The first lot was 30 cards for $5 and the second was 26 cards for $4. I now have the basic team set twice over (or one for the team binder, one for the player binder) and (I think) all but one of the inserts, including a good handful of parallels. Let's see what $9 can buy…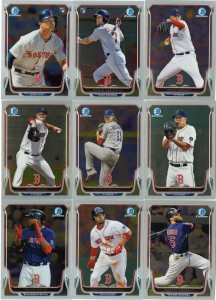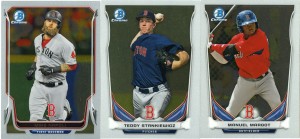 The basic team set is 12 cards. 7 veterans, 2 rookies and 2 prospects. I can't help but notice the lack of prospects, which is sort of Bowman's "thing". I thought Bowman was the prospect brand. Apparently that only applies to plain Bowman and not it's Chromed bretheren. Where's Mookie Betts, Trey Ball, or any of the others? Having official RCs for Bogaerts and Cecchini are nice, but aren't we a bit late for the Bogaerts and a bit early on Cecchini? Moving on…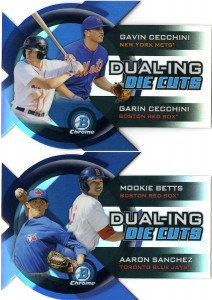 Insert time. There are three "Dualing Die Cuts" (which is odd, I always thought it was one word – diecut) featuring Boston players. Here are the Cecchini brothers and the Betts/Sanchez, I'm missing the Gary Sanchez/Henry Owens card.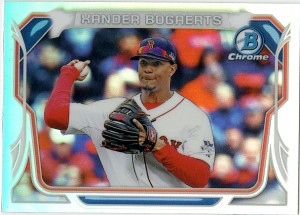 The one and only mini, featuring an oddly cropped Xander Bogaerts. I don't really think Bowman Chrome actually needs minis as a gimick, they've got enough going on. Especially with the mini checklist being only about 20 cards. Just seems like an after thought. The design is weird and the photo doesn't work.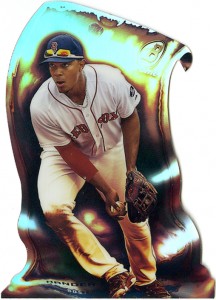 Ah, the "Fire" aka "Melted" insert. I like the idea, and I give them points for using (including the base cards) three different photos of Bogaerts throughout the set. I "get" it, but I think it loses a little something. It's supposed be to a melted version of a card, because the player is "hot" or "on fire", but you don't ever really pick up that it's a melted version of the base card design. You can see a melted "B" for Bowman in the top right corner, and you can see a "Xand…" on the bottom left, but the whole frame/design is lost. So, instead of a melted base card, I see an "oozy mess". They could have taken it down a notch and it would have been perfect. Oh, and the thing is nearly impossible to get in a binder page.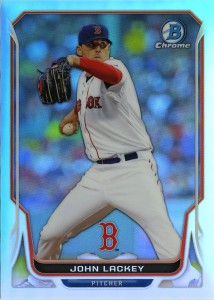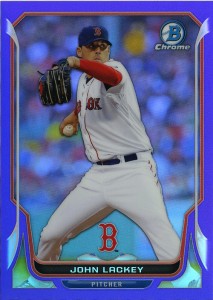 Parallels? You bet. The only thing better than scoring an entire master set is if they throw in some parallels to sweeten the deal. Thankfully (and I think Topps should follow suite), even the base refractors are numbered. The base are /500, the blues are /250 and the purple are /150. Above is a regular and a purple John Lackey.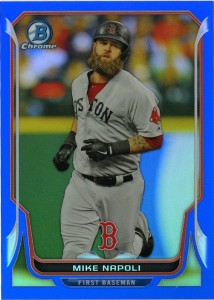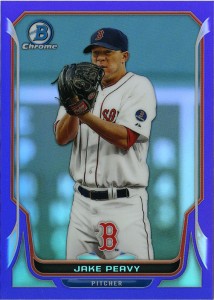 Blue Napoli and a purple Peavy.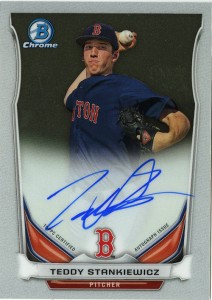 One of the sellers even included an auto. It was the seller that was looking to move a "case busted team lot". So, essentially, a couple days prior he had been selling team slots in a break for $30, no one bought the Sox, and now he's looking to move the results for $4. I'll take that gamble any day of the week. Teddy "Stanky" Stankiewicz, currently playing Low-A ball in Greenville. Topps/Bowman keeps getting these guys to sign cards earlier and earlier. I'd prefer a whole bunch of AAA or at least AA players on the checklist, but I'll take what I can get. As always with prospecting, it's just a wait-and-see.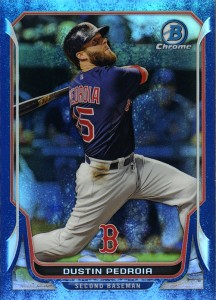 Last but not least, included with the parallels, this beautiful "Bubble" parallel, /99, for Dustin Pedroia. I had been bidding on a couple of these, and the bids all went north of $10. When I saw the team set lot, it wasn't written in the description what all it included, but I thought I saw this one in the picture. Turns out I was right. 30 cards, including this one, for less than the price of this alone. Love it. I love this parallel too. It looks much stronger in-hand. I like that they're trying different patterns and foils. I can only assume that's a result of Panini stepping up their parallel game in Prizm. Awesome card.