I have such a weird pile of stuff from this summer that I never bothered to post about. It's sort of all over the place. There wasn't any rhym or reason to it. It was mostly "I'm bored with current sets, what can I pick up for cheap?" Great motivation right?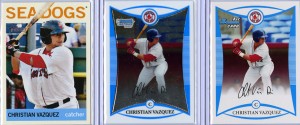 Let's start off with a little Christian Vazquez. Did you know he only has about 5 cards total? These are 3 of them. That's sort of crazy, especially these days with all the minor league cards and the Pro Debut stuff. I like him as a player. I can see him sticking around for a while. I figured I'd pick up the basic rookie cards on the cheap while I still could. He's one that I'm hoping will be in 2014 Update. He needs to be.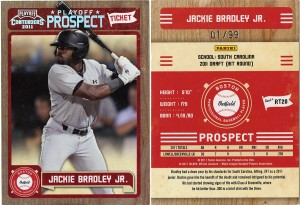 I'm not sold on JBJ. He just wasn't getting it done. I'm seriously wondering if we give him another year or try and trade him, especially with the influx of outfielders. If Middlebrooks got more time to develop, I feel like we owe Bradley another chance, but why waste his time and ours if we've got Castillo and a whole platoon of others waiting to jump in. I picked up the card mostly for the number on the back, but the seller really did a poor job of packing it and the surface on it is all scratched to heck. This might get stuck in a box and forgotten about for a while.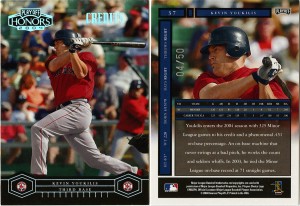 More randomness. This time a 2004 Playoff Honors "Credits" parallel. 04/50. I don't have a single other card from this set. I have no idea if /50 is even good. Didn't care, it was a penny and it was combined shipping with…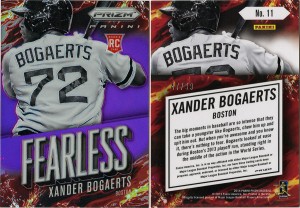 2014 Panini Prizm "Fearless" Xander Bogaerts Purple Parallel. 47/99 and pretty neat looking. A nice addition to the XB collection.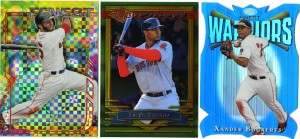 I'm getting the distinct impression that Topps is treating Xander like the next Nomar. He's THE insert in just about every set this year, which I'm completely ok with, but it's getting slightly crazy. This trio of Finest includes that Warriors diecut, the throwback 94 (?) insert and a Pedroia XFractor.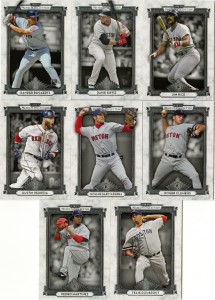 Speaking of other sets, nothing quite tickles my collector funny bone like picking up high-end cards for low-end prices. I wouldn't have pulled the entire team set if I had personally opened a dozen boxes of Museum Collection, so I'm glad someone else did all the hard work for me. Thanks for spending hundreds of dollars for me! $2, score!
Let's see, what else. Oh, yeah, random relics.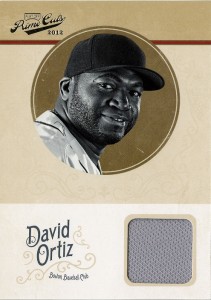 I just, I… I dunno. It just kind of looked lonely. Don't judge me!!!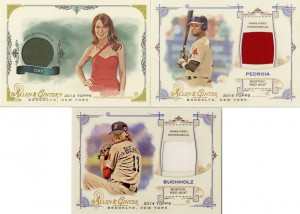 That's better. See, I totally pulled out of that nose dive there. For those that don't know who Felicia Day is, she's a gamer geek. Also, Pedey and Bucky. Normally I'd criticize A&Gs relic design, but I kind of like it this year.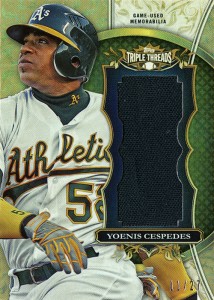 I can only assume we're going to get green Cespedes relics until Topps runs out, which is fine. In my mind I'll just consider them special St. Patricks Day cards. Actually, I like Oakland as a franchise, and I certainly think we got the better end of the trade. Even if Cespedes is a two-year rental, he'll still produce. If the Sox make it to the post season next year maybe that might motivate him to resign, or at least consider it.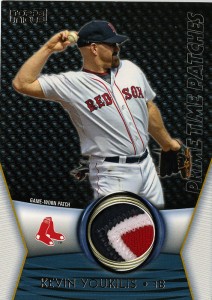 Oooooh. Now we're talking. I still love Youk. I love the way he played. 2009 Prime Patches, and a sick patch at that. 27/75 and totally worth the couple bucks I paid for it. I think this is probably my best Youk relic at the moment.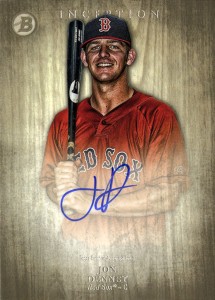 Let's move on and get some ink done. First up, Jon Denney. I wasn't actually sure they could do it, I mean, last year set the bar pretty high, but I think they've accomplished the impossible. They've successfully made Bowman Inception the ugliest cards humanly possible. I mean, just look at that thing. Bad HDR on the picture, terrible wood background, shoddy spot varnish on the top coat, ugly embossing. It's just a mess. I like Jon Denney as a prospect, but this card certainly isn't going in a display case any time soon. Yikes.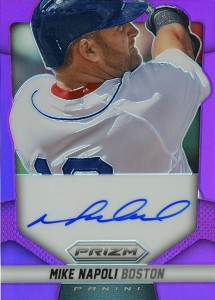 Crazy colors coming up here. First a /99 Purple Prizm auto for Mr Napoli. This is my 4th or 5th Napoli auto. The collection of the "Bearded Destroyer" is growing.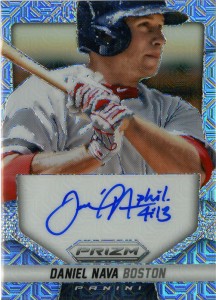 How about a little mojo? Daniel Nava "Mojo" Prizm auto. 55/75. I like Nava, I hope he has a spot in the outfield platoon next year, and this card is awesome. I love that mojo pattern. It's a stunner in hand. I also like the bible verse in there, I enjoy players that do that. I might actually start a mini collection of those. For those of you wondering what Phil 4:13 says – "I can do all this through him who gives me strength."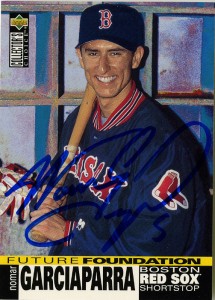 Lastly, another "I'm not sure" auto. Like my Ortiz auto, I'm not 100% on it. I've looked at countless Nomar autos and it looks legit, but that means nothing. I bought this one for two reasons, first, it was an early card and a fairly keystone rookie. Second, it was cheap because it wasn't authenticated. Worst case, I have a rookie card I've been looking for. Best case, I've got an auto I've been looking for for quite some time. Nomar autos aren't cheap. Basic ones are $30-ish. That might seem cheap to some, but it blows my card budget for an entire month. Some day I'll have an authentic one, but until then, I can only cross my fingers and send this into JSA.
So, there you have it. Summer randomness at it's best.