Saying "Early Summer" just seems easier than "stuff from the last three months that I've neglected to mention before now and that never really fit with anything else". Yeah, "Early Summer" it is.
These are all from April, May and June, and mostly from ebay. Any of the non-Sox cards are always up for trade. There were quite a few that I picked up as combined shipping extras after bidding on stuff for myself.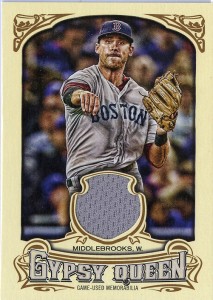 The relic/auto checklist for Gypsy Queen this year was surprisingly slim. The Red Sox had 3 relics and 3 autos. Out of the relics, I've got two. Mr Middlebrooks here, and a Allen Webster that's below. I'm missing the Wade Boggs, which I'm sure will turn up shortly.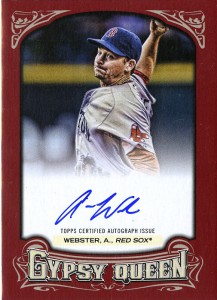 The auto checklist is equally short. Allen Webster gets a lot of attention (with a relic and an auto) and this is the red bordered /49 version. There's also a Fred Lynn and Oil Can Boyd to find. I like Lynn, but I've never been a big collector of Boyd, so unless I stumble across one, I'm not going to go out of my way. Finding the /49 version of the Webster was a nice bonus though. I think these look really nice, especially compared to the pale yellow.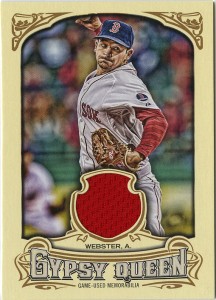 The aforementioned Webster relic. This put my relic hunt to an end for this years GQ set.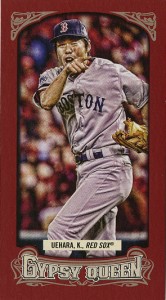 Awww, a mini Koji, lol. #/99 red bordered mini for closer extraordinaire Koji Uehara. I do have a soft spot for the minis, and when some of the parallel ones show up with sellers I usually try and add them on.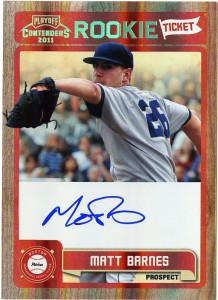 2011 Payoff Contenders Matt Barnes auto. No clue if Matt Barnes will make it big, but on-card autos always make me happy.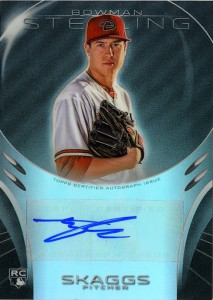 2013 Bowman Sterling Tyler Skaggs refractor auto. It's numbered 150/150. It was actually a throw-in with my Brock Holt Silver Slate. I'm not sure if it was a mix up, or a freebie, but I didn't pay for it and that seller definitely got 5-stars.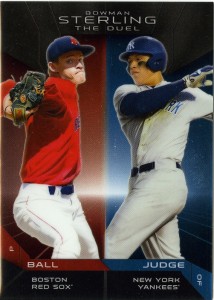 I only picked up a couple Bowman Sterling cards from 2013, mostly because I wasn't crazy about the design. Somehow I managed to get all the base cards of my guys, but this was the missing piece. A "Duel" card with Trey Ball and Aaron Judge.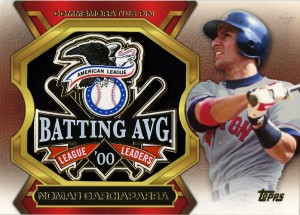 I've managed to avoid hobby boxes of flagship for, well, always. Occasionally there are those few hobby only things I'm interested in. Luckily, the internet has me covered. This is one of those insanely (240pt!) thick "pin" cards. Celebrating Nomar's league leading batting average in 2000. Those were days.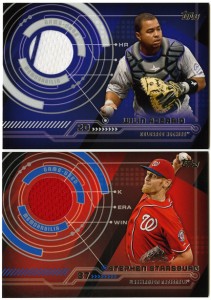 Random flagship relics? Why not. These came along with the Nomar pin. Rosario (with a nice pin-stripe) and the Strasburger. These are from this year I believe. I'm pretty sure these were Series 1.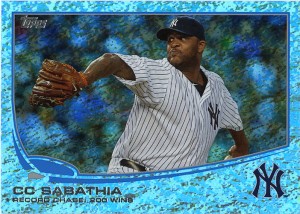 Woah now, let's not get all crazy. What on earth is a Yankees parallel doing in here? Well, it's not just any parallel, and I thought maybe one of my Yankee collecting friends might want it (that's pretty much just you AJ, lol). This is one of those rare "Blue Sapphire" parallels. It's numbered 08/25!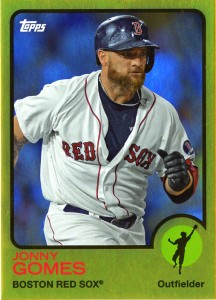 The Gomes. I'm not even sure why I bought this one. I hate Archives. I liked that design, and it was a gold parallel. /199 doesn't hurt either.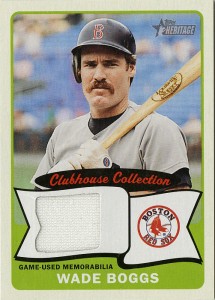 I needed a couple SPs to finish off Heritage back in April. I tacked this on to the order for a buck or two. While I normally consider Heritage to be a blackhole of endless set collecting aggravation, the occasional relic is actually kind of nice. I like the "Clubhouse Collections" concept and they usually do an ok job with making it fit in with the historical design.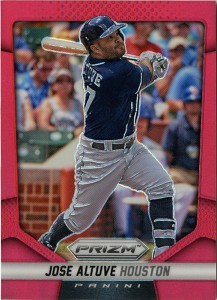 One for my buddy Sam. Houston's Jose Altuve, red Prizm parallel. Numbered 06/25. Sam was busy with his job and moving and stuff, so I've held on to it. Once he gets me his new address, I'm sure this will be on it's way to him (hint, hint, nudge, nudge).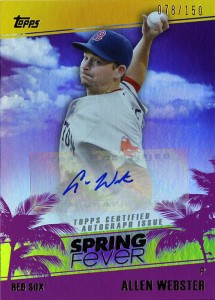 Two things are apparent. One, Topps only has so many photos of poor Allen Webster (see top of the post). Two, he must have signed so many stickers they just don't know what to do with them. This is probably my 35th Webster auto, and I'm convinced that about 90% of them use this photo. I never, ever, open stuff on it's release day, so getting stuff like a wrapper redemption is pretty much secondary market only for me. At least it's /150. That's not too shabby.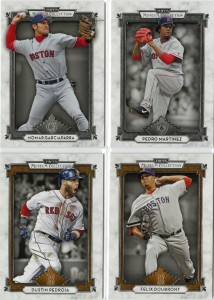 A quartet of Museum Collection. One of my favorite things to do is to try and build a box/pack of high-end stuff, for next to nothing. At 4 packs per box, and 5 cards per pack, you're looking at 20 cards for just around $200. That's $10 a card. Of course, that's just the average. The hits are worth more than the base cards. Still, it gives me that warm fuzzy collecting feeling when I think that someone paid $200 a box and then sold me these for $0.50 each after the market cooled down.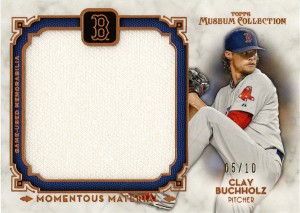 That wasn't all. The same seller parted ways with this exceptionally nice Clay Buchholz 05/10 jumbo relic, bronze parallel for about $4. Having previously scooped up a Dubront auto and a auto/patch/relic for next to nothing, all I need is a quad-relic and I'll have a Frankenset "box" of Museum Collection for under $20. Winning!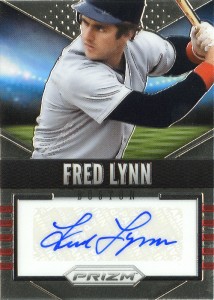 Fred Lynn, what can we say about Fred Lynn. Well, he's probably the greatest Center Fielder the Red Sox have had in the modern era. Who else would be better? Ellis Burks? Damon? Ellsbury? Nah. Lynn is a top 300 homerun hitter, 9 time All-Star and 4 time Gold Glove Winner. A welcome addition to my collection.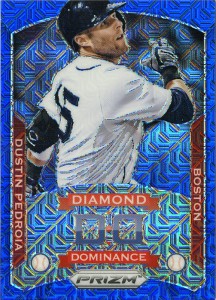 Ohh, shiny! Dustin Pedroia "Diamond Dominance" "Blue Mojo". Numbered /75, and sparkly as all hell, this is just my first parallel from Panini Prizm this year. They really stepped it up in terms of crazy refractors. See Topps, this is how you do chrome.
I can't decide what to do with this one. It was cheap, and I added it in with the next two, but Pedro's in a Mets uniform. Not that there's anything wrong with that, it just doesn't fit my collection. It is 08/20, so that's pretty cool.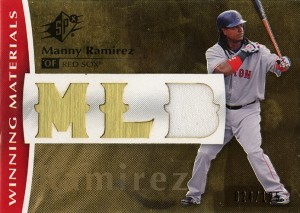 A simple Manny relic. 025/125. Not much to see here. I added this on after chasing the card I was really after…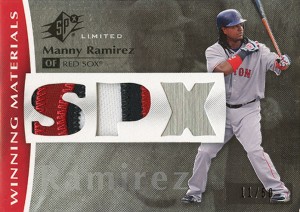 Mmmmm, double patch! 011/50, double patch Manny relic. What's odd is that they're all SPx, but only this one is from the "Limited" subset, and yet it's a larger print run than the Pedro above. Who knows. This is why Upper Deck had issues. Still, awesome patches, great card, and perfect addition to the collection.
There we have it. That's almost everything from the past month or two. I did pick up a blaster of Prizm and my wife got me a couple Series 1 and 2 blasters for Fathers Day, I'll post those up later. Nothing crazy, but there was a hit or two, and some of the Prizm refractors are pretty neat. Till next time!