Man does this feel good. I love crossing stuff off the checklist. Be it huge dents, or desperately needed singles, completing things just feels awesome. I hit up SportLots for the very first time and my experience was very positive.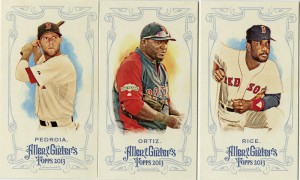 Lets start off with the last three minis I needed from 2013 Allen & Ginter. Man that feels good. I have no idea why that took me so long. I'll have to put them all together in the binder page and scan it. I love to see complete sets. That also finishes off my A&G team set. Done and done!
Next up, Gypsy Queen!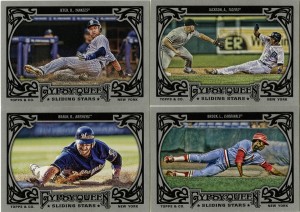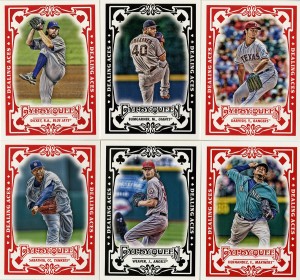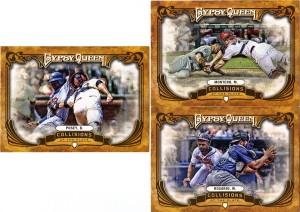 The last inserts I needed for the entire set. I love the Dealing Aces, they're easily my favorite insert from any set I've put together. Sliding Stars and Collisions at the Plate are also now complete. That also completes my "everything but SPs" set. I have all the base cards and inserts. All I have left are 22 of the 50 SPs. And of those, about 10 of them are $5+, which is just completely insane.
Just as an aside: I know 2014 GQ hits next week, but no one has seen a checklist yet. I have the money to buy several boxes but I'm literally waiting till I find out if the SPs are mixed into the set. If they are, I'm not building it. I've had enough of this shenanigans.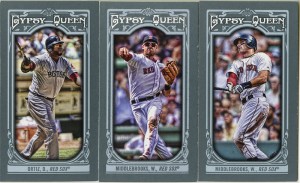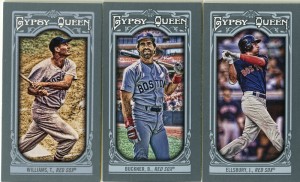 Minis! I'd love to say that this finishes my mini set, but one of the sellers forgot a card! I'm still missing the Jim Rice mini. That's all I need. These are 6 of the 7 I needed. One last piece and this whole thing will be done. I have about half of them in black and green parallels as well, and considered chasing the rest, but I'll have to see what the prices look like. If anyone has the Rice mini, PLEASE let me know!!!