By "Rookies" I mean both official rookie cards and "early card from people who may/may not suck" and by "Refractors" I also mean parallels, diecuts, sparkles and any other bullcrap a card company can think up. That was actually going to be the title of the post, "bullcrap they thought up", but this sounded a whole lot nicer.
What better way to start a flood of mediocrity than with this…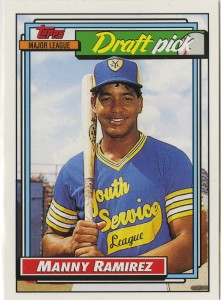 Yup. That's a 1992 Manny. I already had one, but it's graded, and this will go in my player collection binder. You know it's all downhill from here people…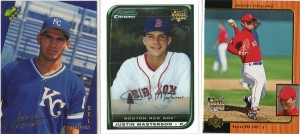 Not only did a pick up a Manny rookie, but I found a Johnny Damon as well. Cha-ching! I also stumbled across a Masterson RC and an Okajima as well. I had the Okajima, but I remembered it being one of the harder to find design variations from SP Rookie Edition.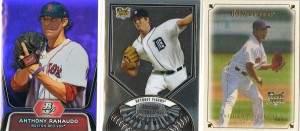 The Miller is a base version of something I already had an auto for. The DiceK was just because I still have a soft spot for those gorgeous Masterpiece cards. The Ranaudo is actually one I was missing. I think I still need two more purple versions from last years BP set, then I'll have a master team set.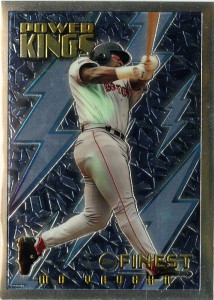 Next, lets take a trip down memory lane. Remember this guy? Mo "Big Dog" Vaugh. 1995 Finest and still shiny as heck.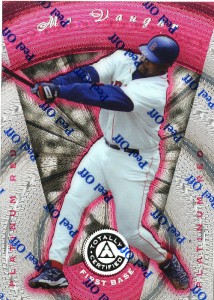 More Mo? Sure, why not. 1997 Pinacle Totally Certified. The brand stuck in my head with Panini having just released TC Hockey a couple weeks ago. This one has all sorts of craziness going on with it. Yes, it was peeled instantly. I'm a peeler. I can admit it.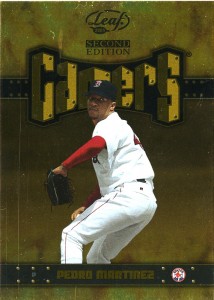 2004 Leaf Pedro. Nice.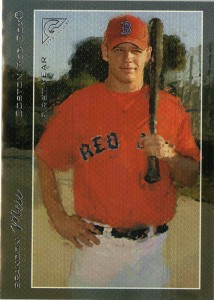 I actually had to look this up. 2005 Topps Gallery "First Year" edition. Gallery was such an awesome idea, I've always loved these cards. I just never knew there were rookie sets within the main set. TIL.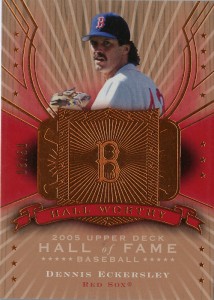 2005 UD Hall of Fame, bronze parallel, numbered 8/50. Not bad for a "bronze" parallel. Anything out of 50 is fairly rare in my book. Pretty sweet card for the Eck!
Multiple shiny variations from the past couple years. The Drew was a dupe, but I thought I needed it. I never finished any sparkle parallel sets, so when they show up in boxes I always snag them just in case I need them.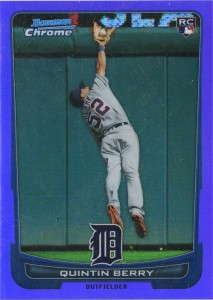 2012 Bowman Chrome blue parallel (/299?) for Quintin Berry. Although he was only with the Sox for a year, like Brian Roberts before him, he stole some much needed bases in key spots.
Jake Peavy, pre-Sox. Peavy is one of those guys who isn't going to throw 100mph, but is just going to chew through innings. He was, at least in my opinion, a great pickup at the trade deadline last year. Dayglow Orange parallel from Archives and a "Spring Fever" redemption as well.
Beckett. Oh my. It didn't seem fair to stick the Dodgers with him. Great pitcher, but he's built to generate as much drama as humanly possible. He helped get us a ring, I can't hate on him too much. Pure Heat diecut I didn't have and some crazy "Sweet Spot" black refractor that's 15/99.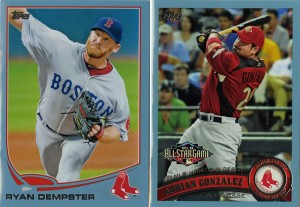 Blue Walmart parallels. Ryan Dempster and Adrian Gonzalez.
Two green (/499?) 2012 Bowman Chromes. One for Victorino and one for Beckett.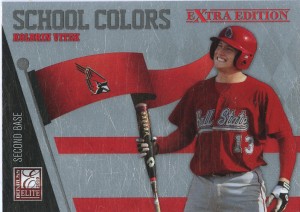 Last but not least, a nice Kolbrin Vitek "School Colors" from Donruss EE. Vitek has a great swing and should absolutely mash for Portland this year. Cool early card I hadn't come across before.
So, there you have it for "Random Rookies & Refractors". I know, it wasn't much to write home about, but I promise, the better stuff is coming. This is just clearing the table.
Stay tuned tomorrow for some random stuff I bought for other people, and stuff I shouldn't have bought at all!