I've been on a bit of a hockey kick lately. Not that I'm ever "off" hockey, as a fan I'm always following my team, but it's not a big part of my collecting habits. For one, hockey cards seem under-produced in general, which leads to higher prices. I'd rather throw $3 at a baseball relic/auto than $15 for a hockey one. I honestly don't know how Greg does it. On the other hand, these two I picked up last week were so awesome I couldn't resist.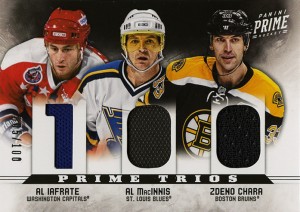 These are my first forays into Panini Prime, and I love them. This is a "Prime Trio" Al Iafrate, Al MacInnis and Zdeno Chara. It's 005/100 and the relics are cut into the shape of "100", a not-so-subtle nod to the fact that these three guys have the hardest slapshots in NHL history. Iafrate's record of 105mph even stood for 16 years, beaten only by Chara himself.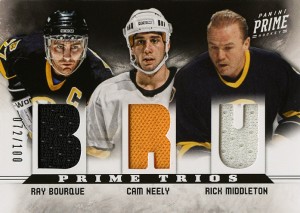 Next, a Bruins trio from the same set. Ray Bourque, Cam Neely and Rick Middleton. Three icons Boston players and three awesome swatches of sweater. 072/100. I love that Neely jersey isn't the typical material, which leads me to believe its either from the neck area or a stripe. I don't think it's a letter or logo, it doesn't seem thick enough. It's also slightly dirty, which is a nice touch, lol.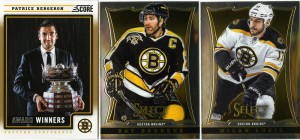 The ebay seller also earned himself a gold star by throwing in a couple extras. Two Panini select and a Score. Bergeron, Bourque and Lucic, can't go wrong with any of those. I definitely saved this seller for next time. So hockey card guys, how did I do?