The title works in a number of ways. Most as a return to form as well as a call back to cards I picked up at the end of January. For myself, writing has always helped with the stress of things, or being entirely to stressed out to write was entirely a double-edged sword. Also, the shear backlog of stuff is now at the point where I either embrace it and get off my ass and do something about it, or it explodes into a psycho-post of everything all at once and everyone runs away screaming. Lets try and minimize the damage, shall we?
For starters, these next couple posts will be both large, and brief. These are all cards from the card show, and there are a lot. I'll break them up into several categories. If you don't feel like slogging through these with me, I totally understand. I hope to see you on the other side once I start talking about things that have actually happened within the same calendar month.
For now, let's just get this over with and jump right in.
In total, everything you see in these Card Show posts was obtained for just over $100. I had $120, and had to pay for parking, so whatever was left I spent. It might not look like it from this post, but you'll see later on that everything added up to a nice haul. I even spent the last $5 on a box to carry it all home in. So, what's today's theme?
Random Prospects!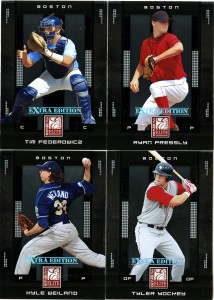 2008 Donruss Extra Elite. Weiland made is and Federowicz is now in the Dodgers system I believe.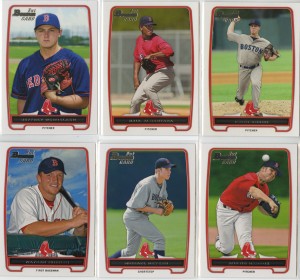 2012 Bowman Draft Prospects. I hadn't picked up the set last year (just regular Bowman and random Chromes), so I had missed out on the Draft release. One seller had obviously busted cases and had enough for multiple base sets, and everything was a dime.
Same set, now we're into parallels and refractors. Purple Jose Vinicio and refractor for Raul Alcantara.
Jackie Bradley Jr Bowman Chrome, Xander Bogaerts Bowman and "Franchise All-Stars" insert with Bogaerts/Ortiz. I already had the individual cards, but it never hurts to have extra copies of rookie cards like that.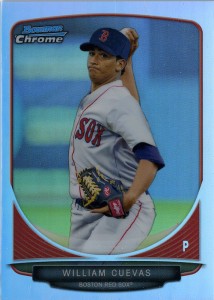 More Bowman Chrome, refractor for William Cuevas.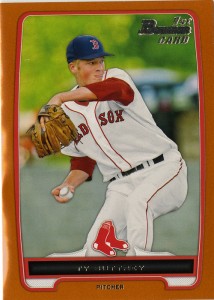 Orange Bowman Parallel for Ty Buttrey.
Keith Couch and Brian Johnson "Ice" parallels.
A couple older ones, Luis Exposito purple refractor and base refractor for Chris Carter.
Different Bowman Platinum sets this time, Chrome Refractor for Bryce Brentz and Xfractor for Ryan Lavarnway.
Two more from yet another Bowman Platinum set. Sean Coyle and Jose Iglesias refractors.
That's it for today. Tomorrow we'll continue with "Random Older Rookies" & "Random Parallels" followed by "Things I Shouldn't Have Bought" on Thursday and finally "Player Collections" & "The Good Stuff" on Friday.