Back at the beginning of the month, I completed a trade with Adam from ARPSmith's Sportscard Obsession. He's been posting his "Embarrassingly Late" trade posts and I realized I had never posted mine. Shame on me. He sent me some great stuff and I wanted to make sure I mentioned it.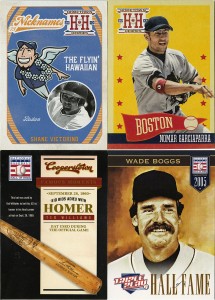 First, a couple fun odd-ball inserts and a great Nomar from Hometown Heroes. I love the Flyin Hawaiian card too.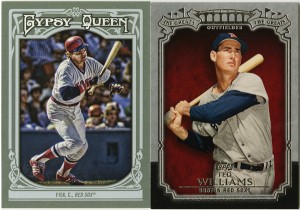 Next, one of those fantastic (and thick!) inserts from last years hobby-only boxes of Flagship. I love that Williams card and it's "high-end" feel. I wish Topps did more stuff like that and cut down on the needless gimmicky inserts instead. Also, Fisk, who is awesome.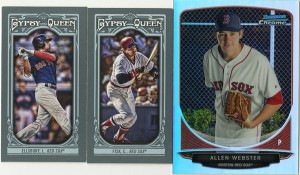 Next up, a mini Fisk and two others I needed for my sets. A chrome mini Allen Webster from Bowman Chrome and a Ellsbury GQ mini! Always great to check things off the set lists.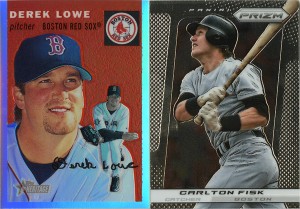 And we can't have a post these days without something shiny. Here's a beauty of a Derek Lowe refractor from Heritage and a Fisk from Prizm.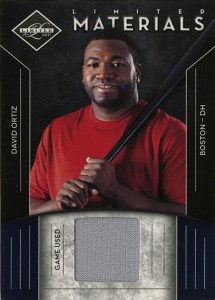 Last but not least, a great Ortiz relic from 2011 Limited. Awesome stuff Adam! Now that I know where I can send all my Giants cards, I expect this is only the begining of many a trade with the Sportscard Obsession. 😉