Last weekend there was a major card show here in Houston. I went and scoured the dime-boxes for hidden treasure. I picked up quite a few but I decided that I wanted to post the "other" pickups I made this month before I flood everyone with posts from the card show. So, these are the random ebay pickups from the month of January. I've got hundreds of cards to scan for my cardshow posts, but in a lot of ways these outshine what I was able to find at the show. The show was all about quantity, while my ebay hunting was just cherry-picking the good stuff.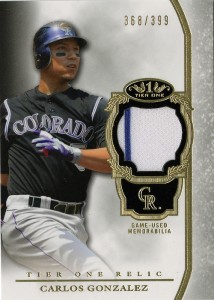 A Tier 1 relic? If this is where we're starting, you know this is going to get crazy. I just liked the stripe and it was combined with a Victorino you'll see in a minute.
The Brock Holt chronicles continue. This time with a hard to find Green parallel. As far as I know, these were "retail" but not from Target or Walmart, who had Red and Blue respectively. I never pulled any personally, so I don't know where they actually came from, Toys'R'Us perhaps? Either way, they're rare, and I had a hell of a time finding this one.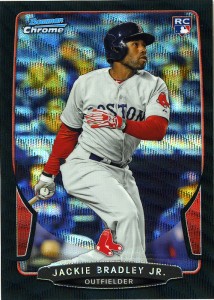 Speaking of hard to find. Bowman Draft, Chrome, Jackie Bradley Jr. Black Wave Refractor. Say that ten times fast. It doesn't scan like it, but this thing is a rainbow masterpiece in hand, and the black border makes the whole thing pop.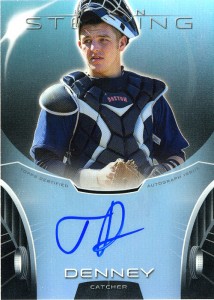 John Denney Bowman Sterling, blue refractor auto, numbered 012-150. I always seem to miss out on the Sterling autos every year, and wanted to pick up a few. There's no telling if Denney will make it to the majors, but it's a solid card regardless.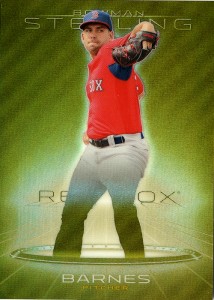 Matt Barnes, Bowman Sterling, Gold Refractor, numbered 49-50. This came along with the Denney auto. Barnes has solid chance to make an impact this year, and all the tools to stay in the bigs.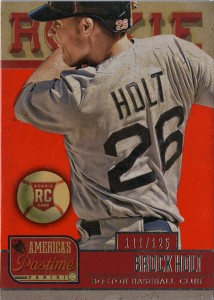 Brock Holt, Panini America's Pastime RC, 111-125. Funny story about this one. There were ZERO on ebay. I actually had to save a search and hope for a notification. I found the next two cards right off the bat, but the silly base card was actually harder to come by. It didn't cost much, but it certainly took some times. It also goes along with…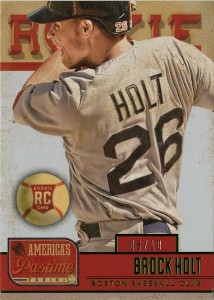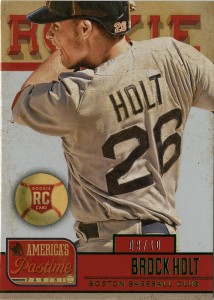 No, your eyes don't deceive you. Those are numbers 8 and 9 of 10. I bought them both. Why? I have no idea. I guess I just wanted to say that I owned 1/5 of something on the planet. I'm getting the distinct impression that I'm also the only Brock Holt collector on the planet, which I'm ok with, lol. Speaking of which…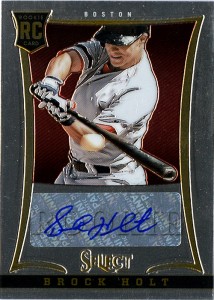 Last one for today, I swear. Panini Select auto RC, gold version, numbered /500. Let's change the subject…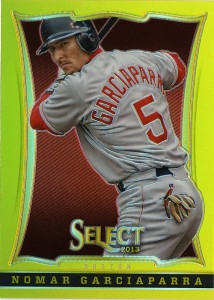 Oooh, now we're talking. Nomar, gold border, from Panini Select, numbered just 11 out of 25. Completely gorgeous card. I'm not really sure where the scanner was picking up the green, because it's a beautiful gold/yellow in person. Really awesome card.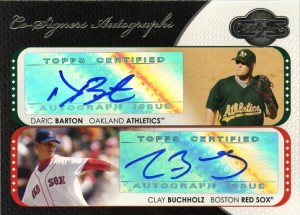 2008 Topps Co-Signers autos. Clay Buchholz and Daric Barton. I actually didn't have this, and the seller spelled "Buccholtz" wrong, so I got it for $1. The crazy part is that it's graded…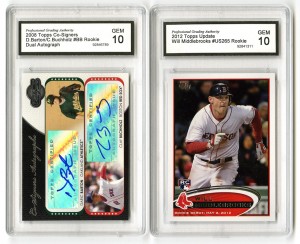 Can't do much better than Gem 10. The seller also threw in a Gem 10 Middlebrooks RC. Spelling mistakes and free stuff… saved seller!!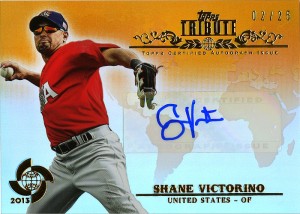 One more bit of awesome before we go on a Pastime spree. This beauty is a 02/25 Shane Victorino auto from the WBC set in Tribute. I had been saying that I wanted a "2013 Victorino Auto" and since they didn't make any with him in a Sox uniform, this was going to be it. I just had to find the right one. I think /25 qualifies.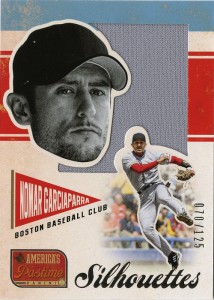 Now for some crazy America's Pastime. I'm getting the impression that people either love or hate this set. It's super high-end, but basically looks like Heritage. It's sort of confusing. I love retro, and I love find high-end for next to nothing, so people's disdain for the set is perfect for people like me who are looking for a bargain. Please, by all means, all you high-end guys keep opening this stuff, hating it, and dumping it off on ebay. Keep dumping stuff like this awesome Nomar jumbo swatch. Numbered 70 of 125. I love it.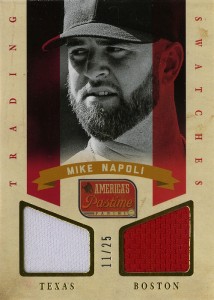 It only gets crazier from here. Mike Napoli duel "trading swatches", the gold version, numbered 11/25. The Bearded Destroyer is pleased.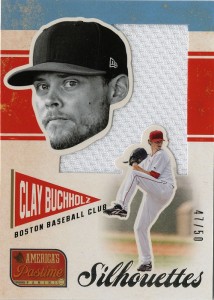 Another jumbo swatch, this time for Mr. Buchholz, and numbered 47/50, but wait, there's more.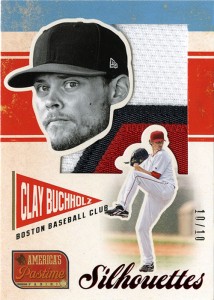 BAM! Epic patch. 10/10 (literally). The same seller had both of these. The plain swatch was easy, but the patch was fought for and won. One of my most expensive purchased, and just over a blaster ($25 with shipping), but completely worth it. I love every single bit of that card.
Whew. That was actually a pretty crazy month. I didn't realize all I had received until I put it all together in a post. What stands out the most to me is that I'm really not as bothered by the non-licensing of cards as I thought I would be. Last year I honestly thought that Topps deal was going to kill my non-Topps collecting, but it's done anything but. Panini has made an incredibly strong case as to why there should be competition in the card world and their products continue to impress me. They have licenses in the other sports, and I hope that's enough to keep them afloat for the next six years. I can't think of anything I'd like to see more than something like America's Pastime or National Treasures with a real license. Actually, you know what, I take that back. They don't need it. The cards are every bit as collectible, logos or not.
Look at the two Bowman Sterling cards up there. Denney's card may as well be unlicensed and only has a tiny logo on the chest protector and all you can see on Matt Barnes is "..OX" and the hat logo. Clearly the logo and team name are pretty minor details. It just doesn't matter, at least to me. I would have bought those two cards regardless. MLB be damned. I'm officially joining the "I don't care" club. Keep making awesome cards like this Panini, and I'll keep buying them.