I said it a couple years ago when the last set came out, but it bares repeating: I love the Olympics. The Winter Olympics, especially the hockey and the skiing are by far and away my favorites. So, it was pretty much a no-brainer that I was going to be picking up some 2014 Olympics cards. In 2012, I managed to put together an entire set in just two blasters. This year, while the distribution of cards is equally good, and I only have a small handful of duplicates, sadly I wasn't able to nail down all 1-100. I managed to only get about 80-85 of them, but I did luck out with two pretty solid hits.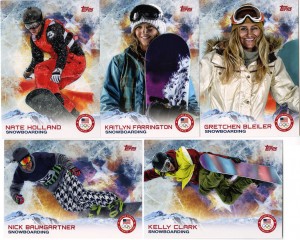 First, a little about the cards themselves. I love them. It's pretty rare that I'm 100% sold on a card design, but these work really well. The text is kept to a minimum and overlaid on the mountain range along the bottom. The photos are faded nicely into it and combined with a subtle American flag motif in the background. The photos themselves are either "action shots" or essentially studio portraits, probably taken by Team USA themselves for promo pieces. The lighting on the portraits is a little all over the place, but it's dramatic enough and they've done a bit of manipulation on them to have a bit of a Dragan effect. All together, everything works, they're bright and colorful, and the showcase the athletes well. Above is a little sampling of a few of my favorite snowboarders.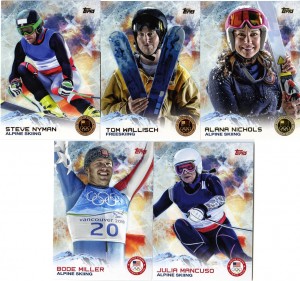 We can't forget skiing either. This sample also includes a couple of the "Medal" Parallels. There are Gold, Silver and Bronze, with gold being the hardest to pull (obviously). I couldn't find any pack odds, but out of two blasters I only found 2 gold, 5 silver and a 20+ bronze.
So, those are the base cards, now for the hits. According to the box, you're able to find either an "athlete worn relic", "commemorative relic" (aka: manupatch) or an auto. The relics and autos are also available in the three medal parallels as well.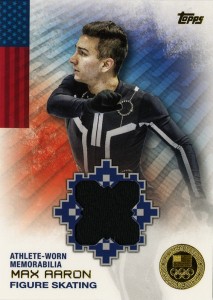 I say that, because I actually pulled a gold version. Now, I'm definitely not a big figure skating guy. I prefer my "ice dancing" to involve sticks and helmets, but this is actually numbered 1/25. The Bronze version is going for $20 on ebay, and a 1/1 Rainbow version is at $150. So, at the very least, I have some interesting tradebait, or something I can sell and reinvest back into more cards. Anyone out there a skating collector?
As for my second hit…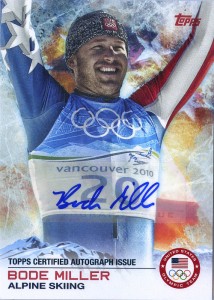 This one is staying in my PC. When I looked at the initial checklist, back when these were announced, I told myself I wanted to find 4 autos: Bode Miller, Lindsey Vonn, and the two Team USA Hockey autos of Jim Craig and Mike Eruizone. Any of the other athletes would have been fine, but those were the four I would be excited to pull. Low and behold, bam! Bode Miller.
All in all, I had two really great blasters. I'm just 18 6 cards shy of the whole set. I'll post a needs list in case anyone else out there actually bought some of this and is looking to move some of their dupes.
Needed cards: 24, 33, 47, 51, 88, 96.