I'm including an awesome trade with Douglas from "Sportscards from the DollarStore" since they were received the week of Christmas and they were quite a gift. I had sent a Kawasaki blue prizm and a Pillar auto his way and he hooked me up with a great selection of Sox cards in return.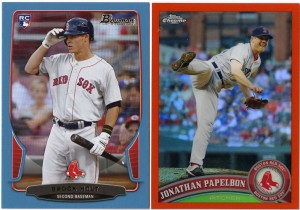 Doug started out by scratching a nice Brock Holt blue border off my checklist, as well as a nice Papelbon orange border from 2011 Chrome.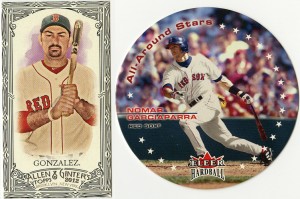 Next up, a nice black border Gonzo mini from 2012 A&G and a very nice Nomar round (mini?) card from Fleer Hardball. The Nomar is completely new and goes right into my Nomar PC binder.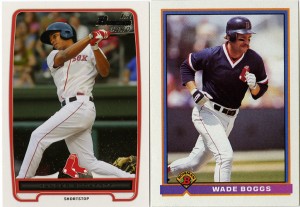 He also include a little old-school, new school combo. A Bogaerts Bowman "1st Card" I hadn't gotten my hands on yet, and a really nice old-school Bowman Wade Boggs that will fit perfectly into my 90's collection.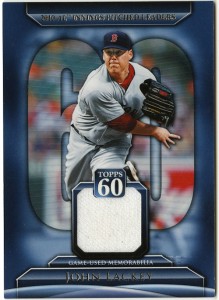 Next, he kicks it up a notch and included a nice (and partially dirty, love that!) Lackey relick from Topps' "Topps 60" inserts. I have an Ellsbury and a JD Drew from the same set, but I think this is my first Lackey.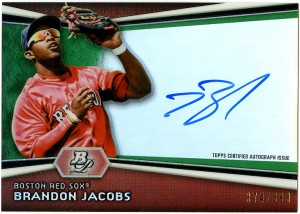 Last but not least, he included a great Bowman Platinum Green parallel auto from Brandon Jacobs. Numbered 374/499 and looking awesome. I had the base auto, but none of the parallels.
Very awesome cards and a great surprise to open the day after Christmas! Thanks Douglas! Looking forward to our next swap!