I just wrote an entire 500 word rant about how much Update sucks, but it's kind of beating a dead horse, so I deleted it. The level of gimmicky crap has reached such levels that I'm just choosing to ignore it now. I'll continue on collecting the things I actually find interesting, of which, I have several new things to show off.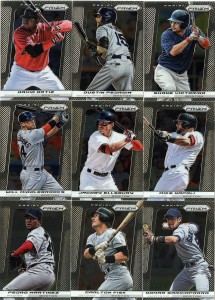 Let's start with 2013 Prizm. After picking up a "test pack" a couple weeks ago, I decided I liked it enough to get the set. The "wow factor" has worn off a bit and they're almost too shiny, but I still like them as a whole. It's sort of like a bright chrome truck bumper. It looks good in general, unless it's noon and you're stuck behind it on a freeway, in which case is blindingly shiny and your eyes start to hurt after a while. It's sort of like that, lol.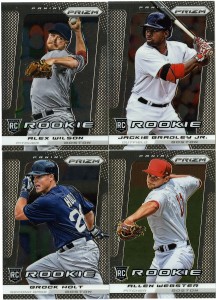 The last of the team set, the 4 rookie cards. Panini did a good job overall with avoiding logos. The Fisk and the Webster look a little odd since the colors are a bit off (that's clearly Fisk in a Chicago uniform), but they're passable. It's also good to see the continued resurgence of Nomar cards. I can't really explain it other than the fact that now he's available to more frequently sign things. Either way, I'll take it.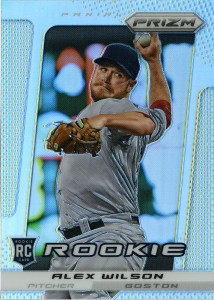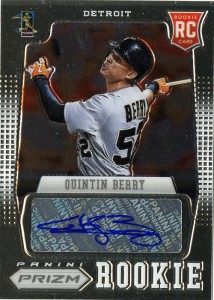 I also picked up a couple refractors like the Alex Wilson above (and a couple others that aren't here yet). Also on a whim I grabbed a 2012 Prizm auto for our base stealer extraordinary, Quintin Berry.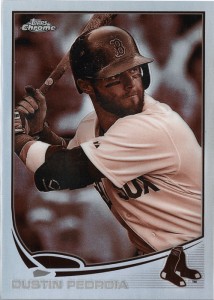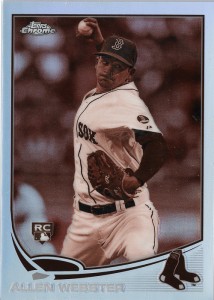 Next, two sepia refractors from Chrome. Even though I ripped on Chrome last week, and still don't plan on chasing any of these actively, these two were from a seller I was getting another card from and had zero bids. Got both for $0.99.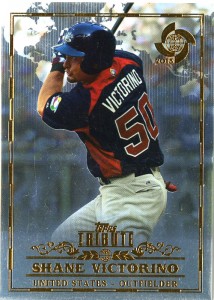 Speaking of the other card, I picked up a Shane Victorino Team USA card from Tribute. I wanted something from this year since most everything I had for Victorino had him in a Phils uniform, and this fit the bill perfectly. I also picked up a couple other random Team USA just for giggles.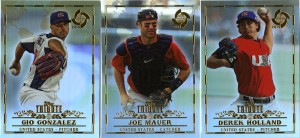 A Speedy Gonzalez, Joey MauMau, and Derek "Don't Call Me Dutch" Holland. I enjoy nicknames.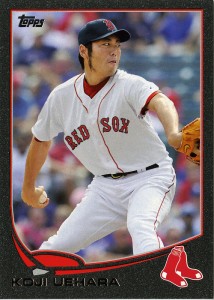 Next up, a beautiful card that I'm very happy to have in my collection. I sweet black border, /62, Koji Uehara. I might knock most of Topps' parallel ideas, but the black borders with the hint of sparkle in them are absolutely gorgeous. Perfect card.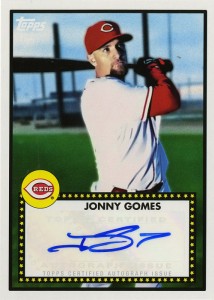 Next up, a 2011 Lineage Jonny Gomes auto. I had a complete lack of Gomes in my collection, which isn't surprising, he simply wasn't on my radar before this year. Throughout the season he's turned into quite the clutch hitter for us and he's got the right combination of crazy and awesome for this team. His intro much is also a Dropkick Murphys tune, so, yeah, instant favorite in my book. I will most certainly be picking up more Gomes cards, this is merely the start.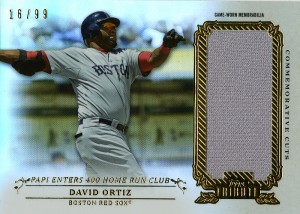 Next, another quick Tribute pick up, an Ortiz jersey swatch, 16/99. I love finding these for cheap. Tribute is that perfect "after market" card for collectors like me. I'm not going to spend big money on buying boxes, but I can still pick up singles for a buck months after the fact. With Triple Threads next week, I fully expect to clean up on the $0.99 relic market this month. Last year I picked up dozens of TTT single relics and several autos for considerably less than a box. I suspect many of you did the same.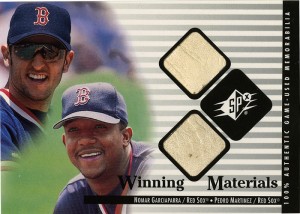 Another oddball card. A 2003 SPX Nomar and Pedro card, but the relic, according to the card, is two different game used baseballs. I can't imagine you get very much "skin" off a baseball when you unravel it, so even being unnumbered, I can't imagine there are a whole ton of these, even if they're cutting up numerous baseballs. I thought it was unique, and certainly not something I've come across before.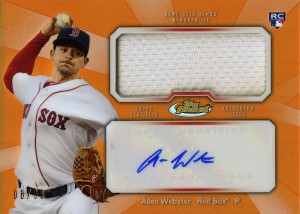 Last but not least, this years single, solitary purchase from Finest. The orange really pops, and the auto/relic combo is nice. The main issue I have is with the actual piece of cloth used for the relic. It's too small. You can actually see the edges of it. If you look at the card from an angle, there's considerable space on all sides of it. I thought maybe I had a poorly constructed card, so I went back and looked at some others on ebay and they're all the same. Really tiny relics, most showing their edges. It's kind of sad. Finest is mid-high end, it's not something I would expect out of a product with that sort of price tag. Doesn't matter, this is the one and only card I wanted out of it. I don't expect I'll be buying any more.
So, there you go. Complete randomness for the month of October. I tried to take it easy since I have some expenses coming up next month, so nothing I picked up was over a dollar, except for the Webster, which was $5. Still not breaking the bank, so I'm good with it.