So, August is here, and that mean I can retrospectively look back at what I picked up in July. This year July was pretty quiet, not only lacking in new products to open, but in lack of random things to find online as well. I only picked up a couple things here and there. Mostly those Brock Holt cards I showed off last week, but there were a couple others as well.
My big thing last month was trying to find other cards I could get for combined shipping. That experience with the seller who wouldn't combine shipping taught me to always look at the bottom of the description, and to make sure the seller offers that. If they do, they get my business, and probably a couple more sales. It's more of an incentive for me to look through their inventory.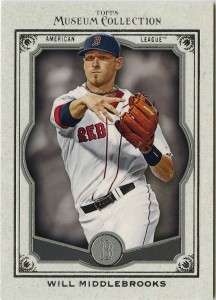 First, just a plain base parallel from Museum Collection that I got along with the very last card in the post. Since I'll never bust any, grabbing random cards from MC for an extra $0.50 is the only way I'm going to get any of them. Here's Will Middlebrooks in all his "gettin' sent down to AAA" glory.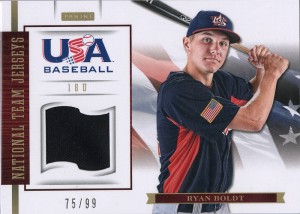 Next up, more of Panini's take on Team USA, and one of the Red Sox early draft picks, Ryan Boldt. Team USA and a Sox prospect, I couldn't help myself.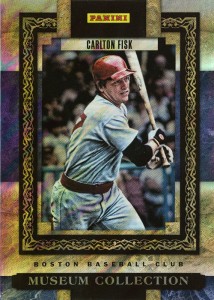 From the same seller as the Boldt, I also picked up a couple others. I scored this nice Panini Father's Day card for Carlton Fisk. I guess Topps didn't bother trademarking "Museum Collection", or Panini figures it can argue that it's a generic enough term that they can use it as well. It's neat card that didn't scan well at all. It looks like an oil-slick, all rainbow refractory and stuff.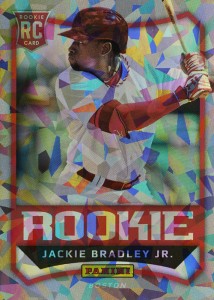 Again from the same seller, I also picked up another Father's Day special, this JBJ atomic, uber-refractor. It's a real trip to see in person. These companies are getting good at making sparkly stuff that just blows my mind. The layers in this thing are just nuts. From one direction you can't even read "Rookie" in the middle, all you see is this cool stained glass effect.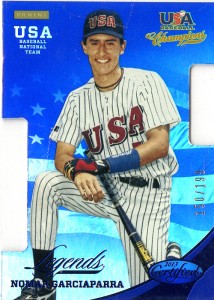 Last from that seller, who clearly was opening lots of Panini stuff this summer, a very nice blue /199 diecut for Nomar from the Team USA set. I still don't have the base card, but I couldn't pass up the diecut for a measly $0.99.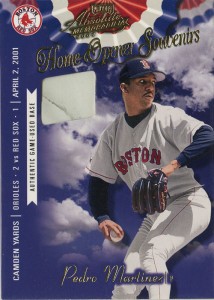 Next, two oddball relics. This one is a 2001 Pedro "Home Opener Souvenirs" with a piece of game used base from a specific game in Camden Yards. So, that begs the question, why call it "Home Opener" if you're using relics from away games. A small detail, but one I can easily ignore given that it's a pretty awesome card and it has a freakin' base inside of it. I'm good with it.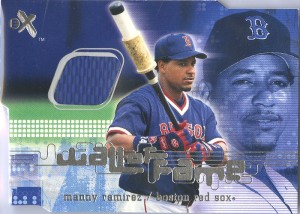 Also from the same seller, "Wall of Fame" relic for Manny Ramirez. You might be wondering why the relic is BLUE and not green, as it would be if it was from Fenway. I am as well. As it turns out, it doesn't say which ballpark it's from, only that it's authentic and from a "major league stadium". So, trying to narrow it down is a bit tough. About half the teams use generic blue outfield walls. It's not Navy, so it's probably not from Yankee Stadium. Maybe its from Toronto  Kansas City or Texas? Anyone recognize that as their teams outfield wall?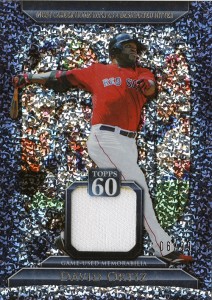 Next up, Sam gave me a heads up when he spotted this one on his local LCS' ebay store. They had it at $8 OBO, so I offered $5, which I thought was fair. They agreed and now it's sparkliness is all mine. A nice Topps 60 relic for Big "Phone Crushing" Papi.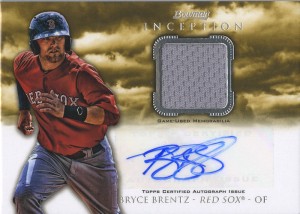 Finally, the single card from Bowman Inception that I was interested in. There's this, and a Xander Bogaerts Auto Relic that's a redemption that I'm never going to land since it's starting at $50. I was kind of disappointed in Inception. It had a pretty terribly checklist. It's the "Museum Collection" of Bowman, and it just wasn't that impressive. I'm glad I stayed away with this one exception. It means I can put more towards Platinum and Ginter this month.
That's all folks. Thanks for reading!