I was fortunate enough to have tickets to the Red Sox – Astros game Monday night. I decided to take the day off work and make a whole event out of it. It was my belated Father's Day present and I had a blast.
My brother and I arrived at the park just before 4:00pm Monday afternoon. The game wasn't until 7:00pm, but I wanted to catch batting practice and try and get some autographs. I came prepared with cardboard and baseballs, but was unprepared to wait the extra hour until 5:00 when the doors opened. That was a miscalculation on my part, and I paid the price. Over the hour, standing on the sidewalk in downtown Houston, the temperature hit 113°F (at least according my phone and the sign across the street). Wearing a navy blue wool hat and a jersey, we took quite the beating.
Around 4:30, the line started forming around the block, with us at the front of it. That was the one upside to being there extra early. There was a 200+ person crowd of nothing but Sox jerseys. It was actually quite a sight to see.
5:05 rolls around and they open the doors. The rush of cold air was awesome. We headed strait for the field and got 3 people away from the entrance to the visitors dugout. Prime autograph territory.
The Astros had just finished BP and the Sox were coming out. I looked behind me and the first couple rows behind us were covered with people also looking for autographs.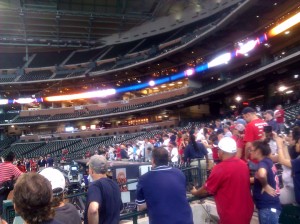 Most people (for some reason) decided to camp out above the dugout. Suckers.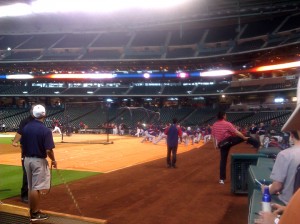 Anyway, as the team warmed up, everyone was shouting for people to come sign things. Nearly all the players, as they walked past, acknowledged the crowd and said something along the lines of "I'll be right back", or "after I stretch", etc. We were all excited that we were going to get the mother-load of autographs.
Then, one by one, they all finished in the cage and headed back into the dugout. After over an hour and a half, only Brock Holt had stopped by to sign anything, and he signed three things for people he knew from the crowd (he's local), then had to go back in. 30 minutes until game time and everyone was walking away disappointed. Not a single autograph. Most people left, leaving on a few of us down there. The security guard was giving us the evil eye because he knew none of us had tickets for that section. Then, out of the bullpen, Clay Buchholz starts walking over towards us. There's maybe 10 of us still standing there. He has a big smile on his face and says "Hey, how's everyone doing, you guys want me to sign anything?" The collective squeal of middle aged men, myself included, was hilarious.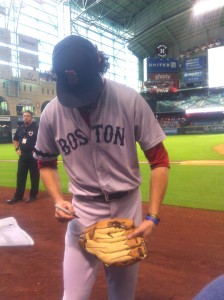 We were being rewarded for our patience. Notice the not-so-ammused security guard. Yeah, he wasn't happy. Don't care!
Clay was awesome enough to sign TWO balls for me, plus a card.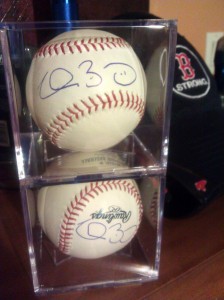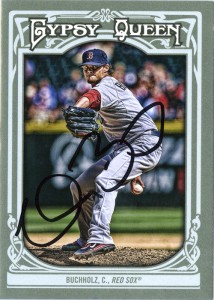 He took the time to talk to everyone, sign everything everyone had for him, take pictures with people, it was awesome. He literally signed up until the announcer was talking about the "ceremonial first pitch". I'm so glad I stayed down at the field.
After he walked away, we made our way to our seats. My wife had gotten me tickets for dead center behind home plate, 2nd deck. They were some of the best seats I've had at Minute Maid.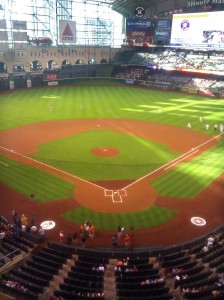 The photo makes it look further away than it was. We were right behind the top of the net, right in-front of the TV cameras.
Sadly the Sox lost Monday night, but it was great fun anyway. I've got to hand it to Oberholtzer, he pitched a gem and deserved the win entirely. He's now blanked the Sox AND the Orioles. Houston might have a legitimate talent in this kid.
Anyway, I couldn't have asked for a better Monday. Meeting one of your favorite players, the player being exceptionally nice, getting not one but THREE autographs. I'm not sure I could top that. Maybe if Ortiz comes over for a BBQ at my house, that might do it. Until that happens, this was pretty much my best Monday ever.