I have roughly (and this is a completely imaginary number) 400 Clay Buchholz rookie cards. Or so it seems. 2008 was the year of a million products and he was a hot rookie. There's a Buchholz rookie in nearly every product from that year. Sometimes, as I'm about to show, multiple rookies cards at that.
Just in case you think I'm exaggerating the multitudes of Buchholz rookie cards, take a gander at COMC. This is the search results, by year…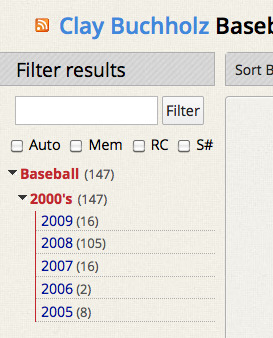 So, when I say "I got a new Buchholz rookie card", your response should be something along the lines of "you've only just begun". It's like freaking Pokemon. Gotta catch'em all.
*Sigh*
Point is, I can find new Buchholz rookie cards just about everywhere, which I've taken full advantage of. These new ones for example. Three more to add to the collection.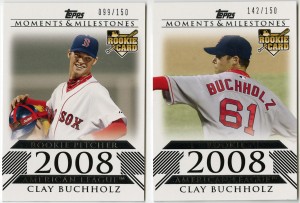 Here are two of his three cards from "Moments and Milestones". Numbers #151 and 153. I think I already have #152. Of course, there are parallels as well. These are numbered out of 150. There are black versions numbered out of 25, blue out of 10, red 1/1's, etc.
Those were tacked on to my order for combined shipping. What I was really after was this…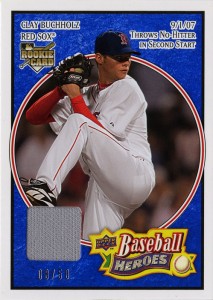 2008 Baseball Heroes, blue parallel, 8/50 relic. How many versions of this card exist? A metric shit-ton. Beige, Black, Brown, Charcoal, Emerald, Light Blue, Navy Blue, Purple, Light Purple, Red, and Sea Green. There are relic versions AND autographed versions AND auto/relic versions.
I've got the regular (beige), the charcoal, and this. And I'm stopping there before I get a migraine just thinking about it.
If anyone out there has actually ever built a master set of all the parallels in Baseball Heroes, I salute you. You sir, are a better man than I.