Been a while since I mentioned anything like this, but above and beyond Sam's GQ break, I did pick up 2 blasters on release day, and then at some point another rack pack or two on various Target trips. I managed to actually get a couple hits and I thought I'd go ahead and mention them before adding them to my tradebait page.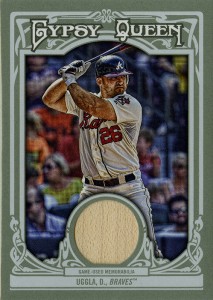 First up, your basic Gypsy Queen hit. A nice 2013 Gypsy Queen bat relic for Mr. Dan Uggla.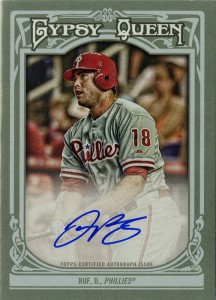 Next, a Gypsy Queen auto for Darin Ruf. In all honesty, I wasn't up on my Phillies prospects, so I had to Google him. Called up last year to play outfield for the Phillies, had a crappy spring training and is apparently back in AAA, but considered one of the top prospects for them. I don't understand why his 2013 Flagship and Heritage cards have RC logos on them, but this doesn't. Confusing.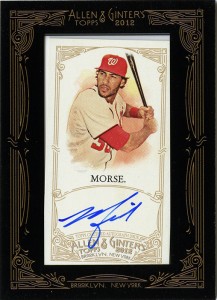 Slightly more interesting auto, Mike Morse for the Nationals from 2012 Ginter. I think he was traded to Seattle, if memory serves me. Regardless, it was an $11.99 discount blaster, don't judge me!
Back to GQ for a minute, a very nice trio of sepia minis. Longoria, Cano and Ripken, all out of /50. The Longoria is 1/50!! The Ripken is 18/50 and the Cano is 19/50. I've vaguely considering putting these on ebay, unless someone can compel a trade out of me. The last time I checked, sepia minis (for above average players) were starting at $10 and going up from there. A quick search showed that the last Ripken sold for $30. Couldn't hurt to try I suppose, but I still wanted to give you guys first crack.
That's it for the moment. I've tried to heavily scale back my retail buying. I even made it out of Target twice this week without any cards. These were only 2 blasters and a rack pack worth, across the whole month of April. Not bad luck from only a couple boxes. I actually had two of the sepia minis in 1 blaster. It's probably best that I can't seem to find any Panini Prizm at my local stores, otherwise we'd be in trouble.
Have a good weekend everybody!