Normally I'd consider "internet strangers" to be the last people I'd give my home address to, but you guys continue to amaze me with your generosity, not only to me, but to each other. It should stand as a testament to the spirit of the card community that we complete trades and send each other packages on a weekly, sometimes daily basis, with such free and complete generosity. This week I wanted to mention, and show, some of the packages I've received in response to my first round of mailings a couple weeks ago. I'm going to spread them out over a couple days, so I hope you don't mind.
Today we start with an awesome package from Pat over at Hot Corner Cards. His package was unique in that we negotiated an extra relic swap on top of the "hey, I've got base cards!" I originally planned. He mentioned his half of the relics over here, and I thought I'd share my half!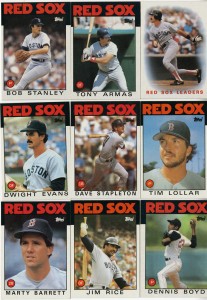 For starters, Pat mentioned having a couple complete team sets sitting around. Normally, if you said to me, "Hey, would you like some 1986 Topps?" I'd look at you funny. But this is actually an exception. I have about half of the team sets from the 1980's, even though I wasn't actively collecting at the time. I have '87 Topps, '89 Donruss, etc., but one of the set I never finished was 1986. Pat knocked the whole thing off my checklist in one big swoop. Even the Clemens is in really nice shape (note: cut off by the scanner, not the card).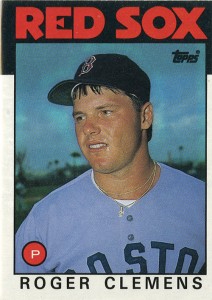 Also, he had more than just '86. He also, and rightly so, wanted to free himself from some 1990 Topps.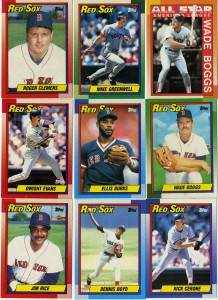 What do you say about 1990 Topps, honestly. Worst set ever? Incredibly ugly? Still need it for my 1990's binder? Yup, yup, and yup. Another whole set. Check!
As I said, normally '86 and '90 aren't things people request, but these were two special cases. Pat offered and I gladly accepted, and he was more than generous. But that wasn't all.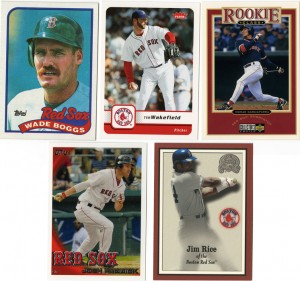 He also started filling in holes in other checklists. A new Nomar, a Reddick I needed for 2010, '89 Boggs, Wake, Rice. All good stuff.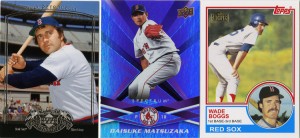 Three really nice ones here. The Rico I had an autographed version but not a base card, so that's a great addition. A nice Dice-K UD Spectrum, and a base version of the Boggs from 2001 Archives that I was missing. Nice!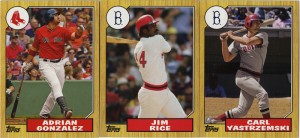 Nice '87 minis from last years Flagship set. I think I was missing the Yaz, or, at the very least, I don't remember picking it up, so that was perfect.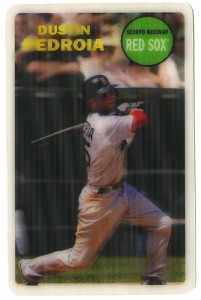 Pedroia 3D insert from Archives, which I didn't have. Cool new addition.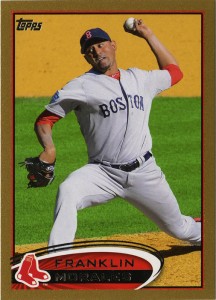 A nice Franklin Morales gold border from 2012. I only had a handful of the gold borders, so that was a nice additional as well.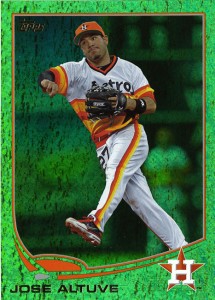 Now I think he's just messing with me. Altuve green foil, lol. I'm 102% positive Sam already has one, so I'll bring this one to the ballpark and see if I can get it signed. It'll make perfect sig chasing material 😉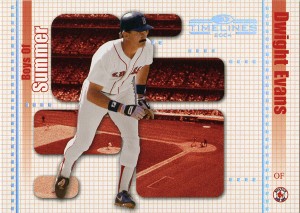 I didn't notice this one until I turned it over on the scanner, but this one is numbered 003/100!!! Wow! A super nice "Boys of Summer" Dwight Evans from Donruss Timelines. Wasn't expecting that one!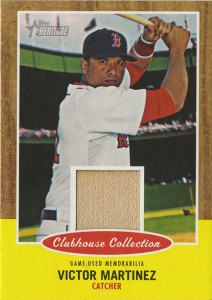 And, last but not least, the crux of our trade, a very nice VMart Clubhouse Collection Bat Relic. With having ignored Heritage, in general, until very recently, these always kind of surprise me with how much I like them. They're simple, well executed, and something I never really expected out of Heritage. With only a couple in my collection, I might have to look back through COMC for some of the others.
Thanks for the awesome return package Pat! Looking forward to trading again soon.